Alpha Direct Agency Team Sparkles at Mid Year Retreat in New York City
Central to this year's Mid Year Retreat (MYR) was a clear theme - Putting the Customer First.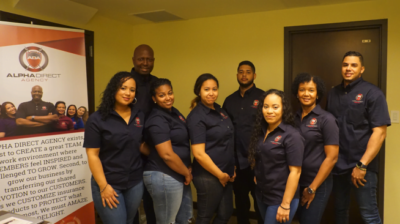 Press Release (ePRNews.com) - NEW YORK - Jul 21, 2017 - July 14 to 16, was the second Alpha Direct Agency Mid Year Retreat. The Company which is a preferred Insurance Agency by many City and Suburban dwellers and Businesses alike puts on a retreat for its hard working Employees Mid-Year. With this Mid-Year Retreat aka MYR (pronounced Mya) "Our goal is to give our Team a chance to pause and reflect. It was a weekend full of memorable dinning experiences, some relaxation and reconnecting with all members from our 4 Offices" says Emmanuel Osuyah, Principal and Founder of The Alpha Direct Agency LLC.
This year, the retreat included Seminars, and Presentations from different Insurance Companies, Guest Speakers, plus Awards for Key Employees & Supportive Underwriters.
Marlene Toribio our Associate Agent was honored with a 5 Year Service Award while Yinette Betances our Raleigh NC Office, Associate Agent was honored as the First recipient of the "Tom Krolack Achiever's Award". The award is given in the recognition of active goal setting and achievement. Named after Thomas Krolack a Nationwide Insurance Sales Manager who worked very closely with The Alpha Direct Agency for more than a decade.
Additional Award recipients include: Pat Latchman a Head Underwriter at Brokers Facilities Corp and Dereck J. King – Marketing VP & Underwriting Manager at JJ Farber Lottman Inc. Both Companies are General Agencies that have worked with the Agency for over 10 years.
"At Alpha Direct Agency, we share a passion for gratitude and so even though I'm surprised to receive this first of its kind Achiever's Award in the Company, it is not out of character for our Company", says Yinette Betances; one of the honorees.
Central to this year's Mid Year Retreat was a clear theme – "Putting the Customer first at all times". Says Gisbell Tejada, the Company's Operations Manager who was also honored in 2016 for 10 Year Service Award. Other notable Guest Speakers during this 2 day event: Bryan Taylor, CLCS, CPCU who in 40 minutes challenged the team with a few trending retention techniques that resonate with customers and breed loyalty and Christy Day from Aflac; one of the Company's Premiere spokespersons.
Mr. Osuyah, the founder closed the event with the group recital of a Customer Trust Pledge followed by a raving applause. The inspirational closing speech titled "What got us here..Won't get us there" reminded the Team about the importance of building a loyal customer base by working tirelessly to earn each customer's TRUST with every opportunity; in person, on the phone and especially over emails.
The Alpha Direct Agency will like to thank the accommodation and event Management Staff at the following establishments: Intercontinental Hotel Barclays New York, Hotel 48Lex New York & The Residence Inn by Marriot New York, for their hospitality during our Weekend Retreat.
See photos from this event at #ALPHADMYR17
More about Alpha Direct Agency at www.alphadrct.com
Source :
ALPHA DIRECT AGENCY LLC

Business Info :
Alpha Direct Agency LLC
5030 broadway Suite 605
New York City, New York - 10034 United States
Phone: 212-568-5700
Website:
http://www.alphadrct.com