Insurance Professionals of Arizona Offers Insurance Brokerage Solutions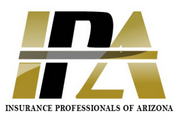 Press Release (ePRNews.com) - Mesa, AZ - Oct 03, 2017 - Located in Arizona, Insurance Professionals of Arizona (IPA) is a leading insurance agency providing the highest level of service superior to all agents and agencies in the region. With over 10 years of insurance experience, they have managed to build an excellent product portfolio which consists of auto insurance, homeowners insurance, commercial insurance, life insurance, health/dental insurance, Mexico Insurance, and recreational vehicle insurance among others. Their exceptional service comes with respect, courteous, friendship, and always seeking to deliver a "WOW" factor. With the right technology by their side, they strive to cater to their clients' needs giving them the most convenience when dealing with insurance coverage.
Speaking during an interview, the Principal Broker said. "At IPA, we seek to provide the highest level of services superior to all other agents and agencies by being trend modifiers in the industry. Being trendsetters as well as trend observers, we pass the knowledge we acquire to our clients, giving them access to the latest insurance products to meet their personal needs, their business needs as well as that of their family. We believe deeply that insurance is an asset, and that coverage needs change as circumstances change. Hence, we make it our goal to ensure that you get the right coverage at the right time for the right price."
Insurance Professional of Arizona offers the best auto insurance coverage that protects clients from financial loss during damaging events. If one's vehicle gets damaged or destroyed by accident, fire, theft or other events, they can visit the company's website to get Arizona auto insurance quote to see whether the company is the right fit for them. The right automobile insurance policy can be the difference between a minor inconvenience and a major hustle. At IPA, they offer the perfect auto insurance solution which protects one from such inconvenience.
Speaking about their rates in Mesa, the branch manager said, "At our Mesa branch, we strive to give you unmatched prices that will make you happy. As a certified insurance agency, we go the extra mile to do the research for you and come up with quotes from different insurance carriers that offers the best deals as pertains to various insurance coverage. We offer personalized quotes from A+ rated carriers to ensure you protect what matters the most, and you can easily change the insurance carriers when you need to, making sure that you're happy at all times.
Insurance Professional of Arizona employs only the best, which enables them to provide their customers with top-notch services. Not only do they have a capable team, but they work in accordance with the Arizona Insurance Commission requirements which assure their clients of getting unrivaled services. With their commitment to serve together with the latest technology, they aim at transforming the insurance industry by providing an industry benchmark that will see consumers never settling for less.

About Insurance Professional of Arizona
Insurance Professional of Arizona is a full-service insurance agency with a head office in Mesa, serving the greater Arizona area. They offer exceptional insurance products at competitive prices and boast of having the best employees in the sector.
Source :
Insurance Professionals of Arizona