Insurance Professionals of Arizona is providing Insurance Solutions to Residents in Arizona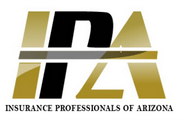 Press Release (ePRNews.com) - Mesa, AZ - Oct 24, 2017 - Insurance Professionals of Arizona is one of the  leading insurance companies in Arizona offering residents high-quality and reliable policies. The company aims to provide clients with a level of service that is beyond  comparison. Having been in operation for more than 10 years, the company boasts  for using modern technology when attending to customers to give them the best insurance coverage.  Insurance Professionals of Arizona focuses on being the most regarded company in Arizona through pursuing all avenues possible to offer its clients superior services.
"With technology having taken the world at a neck breaking speed, our company understands the importance of having an online platform. We use the internet to assist customers with tools that work to their advantage. The service center on our website can help our esteemed customers whenever they need to request a change in policy, view their insurance policy, update their contact information, print an insurance ID cards, download documents and much more. We offer top-notch customer service, and in case you have a query always feel free to contact our staff members to help where ever possible. "Said the Chief Executive Officer."
Insurance Professionals of Arizona has created an immense reputation for itself in the Arizona insurance commission when it comes to their services. The company does not use brokers since they always focus on passing all the savings to their clients. Their range of insurance products is comprehensive and includes health, home, motorcycle, business, auto, and dental insurance. The company is a fully service agency and operates in other areas in Arizona like Gilbert, Scottsdale, Mesa, Tempe, and Phoenix. With their extensive experience in the industry, they are well-versed with the needs of their customers.
Responding to a query on why they are the best, the Vice General Manager said, "We aim to be the best independent insurance agency in the whole state of Arizona. It has not been a walk in the park  as we have strived to offer clients superior-quality service which  is second to none. Our rates are also very competitive in the market, and we ensure customers visiting our facility are left with the "WOW" factor at all times. All staff members are guided by the principle of courtesy, respect, and friendliness whenever they attend to customers. By using modern technology, our esteemed customers have an assurances in timeliness and simplicity at all times."
Getting the right auto insurance will protect a person from the burdens associated with financial losses. In the case  that your car is involved in an accident, stolen, or destroyed by fire then an auto insurance quotes in AZ will come in handy. All states require a person to have  auto insurance to help cater to damages. An insurance policy is essential since it will give a person some peace of mind when it comes to taking care of costs emanating from problems associated with the vehicle.
About Insurance Professionals of Arizona
Insurance professionals of Arizona have set themselves apart to provide clients with quality services at affordable prices. With life insurance quotes that cover the family in case of an unprecedented loss, one can feel at peace.
Source :
Insurance Professionals of Arizona