Altitude Offers iFly Indoor in Calgary
Altitude is a reputable company that provides flight simulation services to individuals, groups, and organisations in Canada.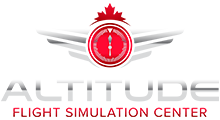 Press Release (ePRNews.com) - Canada - Jan 28, 2023 - Altitude Flight Simulation in Calgary offers state-of-the-art flight simulators, allowing customers to climb inside the cockpit and take their seats. Whether it's piloting an Airbus or flying an F-51, Altitude Flight Simulation Center provides an unmatched flight experience that is perfect for individuals, businesses, and organizations. Their simulators are extremely realistic and provide a high level of immersion. Instructors will guide you and assist you throughout your flight simulation experience.
In response to a query regarding the iFly Calgary experience, the Altitude representative commented. "The time spent participating in the altitude flight simulation is pure simulation and fun. In other words, if you pay for 30 minutes on the simulator, you will get 30 minutes in the simulator, providing you full value for your money!."
Altitude offers the ideal package for you, whether you're planning a business event, a private party, or everything in between. With its lifelike flight simulators, Altitude Flight Simulation Centre offers an unmatched flying experience in Canada. These simulators will leave you speechless with how authentic they seem, regardless of your level of expertise in aviation. If you are looking for indoor activities in Calgary, you should consider Altitude flight simulation as your top choice.
The representative for Altitude continued."You can pilot a plane using altitude flight simulation without ever taking off. You can take in the scenery without needing to fly. Without any prior flying experience, we can let you pilot a range of aircraft using exact physical cockpits and lifelike simulations."
Altitude Flight Simulation offers unrivaled flight training for pilots of all skill levels and every flying interest. This unique training experience is unmatched by any simulator on the market today. No other simulation program gives true flying pleasure like the Altitude flight simulators. Their state-of-the-art equipment has the aircraft handling characteristics of the actual aircraft; you can feel every bump and dip in the controls, and the unique visual systems will put you in the cockpit immediately. Those who are trying to enjoy Calgary indoor activities should consider Altitude as their top choice.
About Altitude
Altitude Flight Simulation is an exceptional experience. Altitude offers a safe fling experience with their flight simulation, iFly indoor in Calgary, bringing the dream of flight closer to reality. A big part of what makes the iFly Calgary experience so enjoyable and thrilling is the instructors. At Altitude's iFly Calgary, you can get a taste of what it's like to be in the air without having to leap out of a plane or climb 12,000 feet.
Contact Info.
Altitude
#122 2323 32nd Avenue NE Calgary,
AB T2E 6Z3 Canada
Phone- (403) 775-2500
Email- contact@altitudesim.ca
Website- https://altitudesim.ca/homepage/
Source :
Altitude Flight Simulation