An Entrepreneurial Spirit with High Powered Execution one women's executive challenge for positive engagement.
Imagine the impact of your childhood experiences and how it affects you today. Similarly, exploring the essence of such experiences from her childhood Susan Johnston, President of Select Services Films, Inc. engages in positive empowerment for all.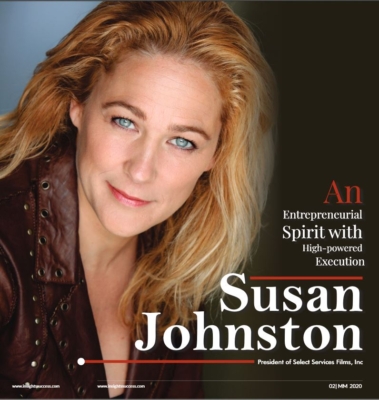 Press Release (ePRNews.com) - Los Angeles - Jun 15, 2020 - Susan Johnston looks after an award-winning production company, Select Services Films Inc.  and is Founder/Director of New Media Film Festival. Susan's whole life & career was always inevitably leading to the creation of the New Media Film Festival® and empowering her community. She has been an actor, model, producer, film services sorceress, and early digital whiz. She's been knighted, named an honorary astronaut, been awarded Gamechanger of the Year, and traveled the world. As a lifelong activist, she's written and recorded songs to support campaigns for Greenpeace and the National Coalition against Domestic Violence.  It all started with an offbeat upbringing in Cranston, Rhode Island.
The foundation of New Media Film Festival®
When the Writers Guild of America strike of 2007-8 happened; Susan Johnston felt a strong urge to do something that would make a difference. Looking back at her life, she believed she had what it would take. From her dad, she developed business acumen. From her mom, a spirit of exploration. "I'm good at the tech side. I'm good on the innovation side. I'm not scared of anything, so I can start things." One night before she went to sleep, she set herself a task. "What do I do with my skills and experience to help this community that I've been a part of my entire life? When I woke up the next morning, the schematic for the festival was pretty much downloaded. "That schematic became the foundation for the New Media Film Festival®, which launched in 2009. "It wasn't easy because no one knew what new media was then," Johnston recalls. Yet, the festival took off, immediately breaking new ground.
The festival was the first to screen a film created by artificial intelligence, the first to offer Emmy consulting and to distribute micro-content. A work that won the augmented reality category went on to become the first-ever series of its kind. "Select services Films distributed it and nominated it for an Emmy," says Johnston. Two documentaries distributed by the festival recently hit number one on Amazon. As many as five others have made the top 50.
A Bright, Efficient and Excellent Co-coordinator
Susan's, first film a 35mm color film noir short Room 32, which won two awards, received distribution and was requested by Spiderman 3 for their production team. In 2000, Johnston – moved to Los Angeles amid the commercial actors strike. She worked – often for free – and studied every day to develop her skills. On one day she might be the best boy, on another a snake wrangler. When a director asked her to produce a project she was working on, Johnston agreed. "My motto at the time," says Johnston, "I'm not going to ask anyone to do anything I wouldn't do myself or that I haven't tried myself first."
First Experience in the Digital Age
In high school, Johnston landed a work-study placement in the computer department of a large corporation. Her first experience in the new digital age was exciting and led to a placement at a division of Pierre Cardin. "I worked in their computer department with this fantastic machine which looks like it came from 2001: A Space Odyssey. I'm in this cleanroom of a PDP 1134 with giant discs and sounds, and I am responsible when it crashes while everybody else is screaming because they think the world is going to end. I just loved it. That's why on the tech side I'm not scared of anything. "The experience left Johnston with far more than confidence with new technology.
Her father's innovative approach to getting things done together with her digital experience at the corporate level as a problem solver at such a young age gave her confidence to face pretty well any challenge. She could simply remain calm in the midst of turmoil and, calling upon her skills and creativity, solve problems.


Breadth of Experience
Susan Johnston first stepped out of the wings and onto a stage as a Brownie. "I was a flower in a play," she recalls from her LA home. "I crouched behind the flower. Then the flower fell, and the audience laughed." She was hooked. "Having a whole audience laugh when your life feels like hell is pretty cool. "From her role as a flower child, Johnston's mom graduated her to beauty pageants and early, successful modeling career for magazines and television. During those formative years, Johnston's mother took her to the theater as often as possible. "I got to see a lot of amazing performers coming through town," she says and remembers the breadth of experience she gained. "I'm thinking every kid lives like this, but looking back on it, I was entrenched in cast, crew, audience, sound, lights – everything for years.
•    M&A Today Awards Best Woman-Owned Film & TV Production Company – California
•    Global Awards Best Woman owned Film & TV Prod Co
•    Media Award, TMT Magazine
•    CA State Business Awards: Best Arts & Entertainment Annual Event
•    City of Los Angeles: Certificate of Appreciation
•    Global Excellence Award: Most Outstanding Film TV Production Company
•    Global Excellence Award: New Media Producer of the Year
•    Los Angeles Award: Best Woman Owned TV Production Company
•    Los Angeles Award for Excellence in Broadcast Media Services
•    US Company of the Year (Film & TV) – Select Services Films Inc.
•    TMT Award for Excellence in Visual Storytelling Events – West Coast USA
•    TMT Recognised Leader in Film Production – West Coast USA
Source :
Insight Success