Announcing Popular Author Realtor Gerri Leventhal's New Book The Fundamentals of Realty Consulting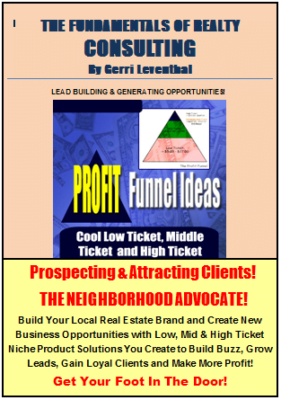 Press Release (ePRNews.com) - MONTCLAIR, N.J. - Mar 03, 2017 - Real Estate in the USA has died and is about to come back strong, though totally different than anything any Realty Agent has ever seen. But Realtors and their clients have got to get prepared now, to take advantage of the BOOM, at the beginning when the big money will be made.
Realty has been so slow for so long due to strict mortgage requirements and bad borrowing rates that yesterday's methods of business are obsolete now. Gerri Leventhal's 'The Fundamentals of Realty Consulting' teaches anyone wanting to cash in on the coming Real Estate Investment explosion the necessary art of networking and relationship building in today's lucrative property markets.
Technology will also be the great equalizer for everything from finding low priced property opportunities, getting lots of bids, promoting projects, to negotiating the best deals from lenders.
GERRI LEVENTHAL has specialized in the competitive arena of Northern New Jersey Real Estate within a fast 30-60 minutes commute into Midtown Manhattan for the past twenty five years. In 1999 she was an Assistant Manager for Weichert Realtors and qualified for her Broker's License in 2000. Gerri has been mentoring new Real Estate Agents for many years.
Gerri Leventhal is well known for penning her local Real Estate Advice Column as well as for her three previously published, popular Real Estate Books. No one is more qualified to write this year's much needed Real Estate Career Guide Book!
The timing of this Real Estate Book is very relevant; its wisdom will be determining the rules of Realty for decades and decades.Guaranteed to be a best seller; the quick acting can get a much discounted e-read version now at http://findnjhouse.com/realtor-training/
For book cover photo, author photo, any questions or to set up an author interview contact:
Gerri Leventhal
Source :
Find NJ House