Annual Sports Day at Omega Healthcare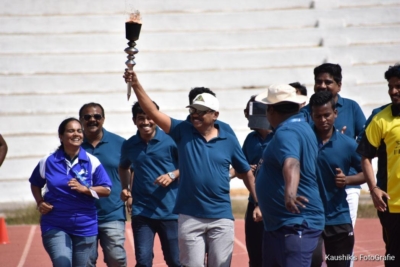 Press Release (ePRNews.com) - BENGALURU, India - Feb 22, 2017 - Omega Healthcare Management Services Pvt. Ltd. celebrated its Annual Sports Meet on 18th and 19th February at Anna Stadium, Trichy, organized by the Omega Lions Sports Club. The Trichy centre has a headcount of 3800 employees and nearly 700 employees participated in the event.
The event was attended by Mr. V Narayanan, Location Head at Omega Healthcare, Trichy and Mr. Kanickairaj G G, Director – Operations at Omega Healthcare, who were the chief guests at the event.
"It is days like these that we get to come together and have a shared experience of team effort beyond daily business work. Omega Healthcare's core values have always been toward benefiting our employees who are an integral part of the company. This Sports Day was a huge success as it was not just a series of motivational and grounding exercises, but it gave each of us the opportunity to connect with everyone on a personal level and compete with friends." said Mr. Narayanan, commenting on the celebration.
"The sports meet was grander and far more exciting than we had expected. I was very happy to participate in the events." said Raja Thomas, an employee from the team 'Support Spartans'
Another employee Mythili, from team 'Coding Super Kings' expressed, "It was a real different experience. We were reminded of school & college days and see in raw contrast how teamwork still plays a vital role at workplace."
The athletic events saw participation from nearly 700 employees. They were segregated into 8 teams or 'houses' with the respective delivery heads as their captains. etc. Mr Narayanan also hoisted the National flag in the presence of all the houses that marched along with their captains holding their house flags high. Each of the houses then competed to win the tournament through events like 100 mts, 200 mts, relay race. Rockfort Eagles were the winners and the runners were Data Murattukalaigal. Vinoth.C won the Best individual Championship – Men and Mahalakshmi. S was awarded the Best Individual Championship – Women.
About Omega Healthcare:
Omega Healthcare is a well-established and rapidly expanding company in the healthcare BPO/KPO space with offices in Bengaluru, Chennai, Trichy & Bhimavaram (India) and Manila & Cebu (Philippines). In Trichy, Omega Healthcare is the largest white collar employer with a total strength of nearly 3800 employees of which women account for nearly 60% of the population. Launched in 2011, Omega Trichy is known across the organization for its phenomenal success with the highest employee referral rates and low attrition levels.
Omega Healthcare specializes in providing offshore healthcare management services in Revenue Cycle Management (RCM). With a growth rate of 30-35% year-on-year, the company handles high-end, value-driven work pertaining to medical coding and other revenue cycle management services and attracts some of the best talent in the industry. Omega Healthcare is ISO 9001 and 27001 certified, SSAE-16 certified, and HIPAA (www.hipaa.com) compliant.
For further queries contact: darshita@prhub.com (+91-9711935748)
Source :
Omega Healthcare