Anny's Plastic Tableware Offering Superior Disposable Cutlery Sets at Great Prices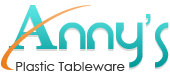 Press Release (ePRNews.com) - Zhejiang, China - Jul 10, 2018 - Anny's Plastic Tableware, a revered manufacturer and exporter of food packaging and catering products, is offering top quality Disposable Cutlery sets at great savings.
Anny's Plastic Tableware, an offshoot of Jinhua Lansin Commodity Co., Ltd. has set industry standards in manufacturing and exporting of food packaging and catering products. The manufacturer has ultra modern facilities in Zhejiang where production takes place with the best industry practices and state of the art machines. Quality checks and inspections are performed at each stage of the process to ensure that products with consistent quality and reliable performance are manufactured. Additionally, Anny's Plastic Tableware has integrated its logistics with the leading carriers, ensuring swift, efficient and affordable deliveries to all leading markets globally.
One of the executives at Anny's Plastic Tableware recently stated, "Anny's Plastic Tableware continues to delight wholesalers around the world with top quality products, friendly service and great prices. We carry one of the most comprehensive inventories to cater to all needs and budgets. From plastic cup, pet cup and microwavable plastic container to disposable plastic cutlery, thermoformed plastic plate and bowl, biodegradable tableware and plastic glass, we offer the entire collection. We also entertain volume orders for injected plastic plate & bowls, plastic dessert tableware, aluminium foil rolls and aluminium foil containers in varied shapes and sizes. We maintain a consistent, competitive pricing policy across all products to bring hefty savings for our clients."
Quality and customer satisfaction are the defining traits of Anny's Plastic Tableware. It prefers using superior, food grade materials for production. The idea is to ensure food packaging and catering products that are safe for serving and storing all food items. The custom product, printing and packaging requests are also entertained to bring in suitability. Going a step further, the manufacturer offers samples of existing models available ex-stock for free while custom-made samples incur production charges. Moreover, it accepts 100% wire transfer for orders up to US$5,000 and 30% advance as deposit, balance against B/L copy or L/C for orders worth more.
Offering information on the Disposable Cutlery sets on offer, the executive further stated, "Anny's Plastic Tableware is reaching out to buyers globally with disposable plastic cutlery made from food graded polypropylene (PP) or polystyrene (PS) biodegradable starch, PLA. The collection is vast enough to include different sizes and weights for all needs. Typically, our disposable cutlery set is comprised of teaspoons, soup spoons, forks, spoon forks, dessert forks, dessert spoons, knives, and more. Like all our products, the disposal cutlery selection is also backed by a promise of great savings, fast deliveries and dedicated customer support."
Anny's Plastic Tableware is spoiling those wanting to buy disposable plastic spoon and fork for choices. The buyer can opt for disposable plastic spoons and forks in different colours and shades. Specially treated plastic cutlery, silver and gold plated, is also readily available. These spoons and forks are apt for BBQ, picnic, parties, events and more. Moreover, Anny's Plastic Tableware has recently revivified its inventory with cornstarch biodegradable tableware, Biodegradable lunch box, biodegradable plates and cups, PET fruit box, and PET clamshells.
About Anny's Plastic Tableware:
Operating out of Zhejiang, China, Anny's Plastic Tableware is a manufacturer and exporter of disposable plastic tableware and packaging since the year 2007. Whether buyers want to buy disposable sauce cups with lids or get elegant dinnerware disposable, Anny's Plastic Tableware keeps them covered with it all and more.
Source :
Anny's Plastic Tableware