Anny's Plastic Tableware is Offering Aluminum Foil Rolls, Dinnerware Disposables, and Plastic Silver Cutlery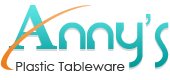 Press Release (ePRNews.com) - Jinhua City - May 25, 2018 - Anny's Plastic Tableware is a leading manufacturer and exporter of catering products and food packaging. Working under the Jinhua Lansin Commodity Co, Ltd umbrella, the company has grown tremendously and has managed to come up with an impressive line of products which include disposable plastic cups, disposable plastic cutleries, disposable plastic cups, elegant injected plastic plates, thermoformed plastic plates and bowls, aluminum foils, plastic dessert tableware, PET fruit box, PET clamshells, biodegradable plates & cups and much more. With this impressive line of items, they've been able to work with clients from all around the world earning a sturdy reputation for being reliable, affordable and trustworthy. No order is beyond their reach, and one can always expect to find what they're looking for when they shop with the company.
Talking about the importance of food packaging, the Head of Marketing said, "Food packaging materials offer a ton of benefits when used. Firstly, they provide protection against contamination or damage by air, micro-organisms, toxins, and air. Food packaging also acts as a restrictor of food from leaking or spilling through all the stages of distribution until the consumer opens it. When it comes to product identification and labeling, they play an important role as they help display the nutrition included in the food, ingredients, sell-by dates, bar codes and so on. In addition, they help in the marketing of the product to the consumer as customers will always go for a well-packaged food item. That said, at Anny's Plastic Tableware, we'll ensure that you get the best item to cater to your food packaging needs."
One can buy aluminum foil rolls at affordable prices when they shop at Anny's Plastic Tableware. The aluminum foil wraps are considered to be the best option for packing food and are readily available and can be molded or folded with ease. They're lightweight and resistant to heat and can be folded in any shape. They also act as a great barrier to gasses, moisture, and light among others. With this in mind, Anny's Plastic Tableware has been known to offer unmatched quality as it relates to aluminum foil rolls for drink and food packaging. They supply a broad range of aluminum foil rolls, foil bakery trays, plastic champagne glass, disposable plastic sampling cups, etc.
Speaking about their dinnerware disposables, the Head of Marketing added, "If you're looking to buy elegant dinnerware disposable, you can trust us to provide you with some of the best items in this category. With immense hands-on experience, we know what our customers want, and that's why we go above and beyond to ensure we provide our clientele with industry-relevant dinnerware items. Our dinnerware disposables are of high-quality, and one can always expect excellent performance when they use them."
Anny's Plastic Tableware has over the years become a one-stop shop for clients looking to buy plastic silver cutlery. The company offers different weights and sizes of disposable silver plastic cutlery in wholesale quantities made from food graded polystyrene (PS) or polypropylene (PP). These plastic silver cutleries include Heavy Weight Silver Plastic Cutlery-ACS009, Disposable Silver Plastic Serving Tongs-AT001, Heavy Weight Silver Plastic Cutlery-ACS008, Extra Heavy Weight Silver Plastic Cutlery-ACS011 and much more.
About Anny's Plastic Tableware
Anny's Plastic Tableware is a renowned supplier of high-quality, affordable and reliable food packaging and catering products. The company offers a range of items for one to choose from and provides wholesale pricing.
Contact Details
Anny's Plastic Tableware
Room 916, Hengfeng Building, No. 191, West Shuangxi Rd, Jinhua City,
Telephone Number: +86-579-82821618
Email: sales@annysplastictableware.com
Website: http://www.annysplastictableware.com
Source :
Anny's Plastic Tableware