Artist Christopher Burns Unveils New Oil Portrait of Stevie Nicks
Burns Showcases the "Queen of Rock n' Roll" Also Known as the "Gold Dust Woman"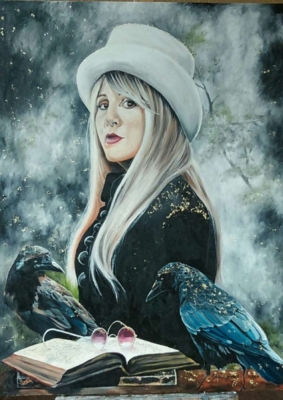 Press Release (ePRNews.com) - TUCSON, Ariz. - May 17, 2017 - Christopher Burns, a rising star of the Art World and owner of "Classical Werx of Art," has announced the completion of a new oil painting he has titled, "Gold Dust Woman." The portrait of Stevie Nicks, often referred to as the "Queen of Rock n' Roll," was commissioned by a Tucson Salon owner. Burns, who has been judged into and appeared in numerous art shows, believes this latest work is among his finest, and he is also offering signed prints of the piece at special pricing.
About his latest 'masterpiece,' Burns says, "I believe I created a unique oil painting that serves to mirror the uniqueness of the performer that Nicks is. I tried to capture her style by combining a bit of Gypsy elegance and grace with a touch of magic using two very beautiful ravens resting on old books. I also added a pair of old 'rose colored glasses' and sprinkled 18k gold flakes throughout the image, reflecting the title, 'Gold Dust Woman.' The latter, by the way, is one of Burns' favorite Stevie Nick's vocals.
Burns also gives a big "thank you" to the famous Buffalo Chip saloon and steakhouse located in Cave Creek, Arizona, where he will be unveiling the Nicks' portrait for the public to view for the first time. The date is May 20th at 3 p.m. Burns will also be offering the chance for the public to pre-order limited edition, numbered prints which will also carry his signature. Additionally, the prints will be hand varnished for long lasting beauty and protection.
On June 3, another unveiling is set for the Venture Inn in Tucson, Arizona. Burns will also offer the public the opportunity to pre-order prints before the portrait is released to its new owner. Burns' art can be seen, admired and purchased at:
https://www.classicalwerxofart.com/
Source :
Classical Werx of Art