Louis Benech : Unshakeable Faith – The Globally Acclaimed French Gardener Opens Up to ZEFYR LIFE
Acclaimed French gardener Louis Benech has granted ZEFYR LIFE an exclusive filmed conversation in which he discusses his childhood, his creative thinking process behind historic sites The Tuileries Gardens in Paris or the Palace of Versailles.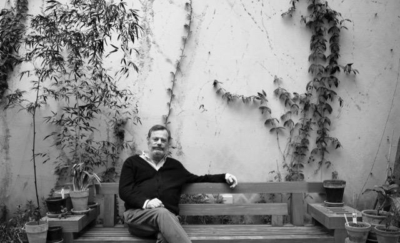 Press Release (ePRNews.com) - LONDON - Jun 08, 2017 - "It is fair to say that as humble and gracious as French Gardener Louis Benech may come across when you meet him in person, this gifted gentleman has been, literally, walking straight into the footsteps of French historic figures such as Charles Le Brun, André Le Nôtre and King Louis XIV of France! The works he has accomplished at The Tuileries Gardens in France together with Pascal Cribier and François Roubaud, or the Water Theatre Grove at the Palace of Versailles – featuring a sculpture by Jean-Michel Othoniel – are nothing less than the result of pure brilliance, said Florian David Editor-in-Chief and Co-Founder of ZEFYR LIFE in London. Lina Daugirdaite, ZEFYR LIFE's Creative Director and Co-Founder added: I think that what sets Louis' works appart are his insatiable curiosity and his love for other human beings, his generosity. You see, you can be a very talented and sophisticated garden 'architect' or 'designer' if you will, but it is now clear to me that it is Louis' soulfulness that explains the magic of his creations. He is nor an artist nor a dreamer, he is very pragmatic on the contrary. But his genuine love for the world and for people, his hunger for beauty and freedom, are what give all his works this 'Supplement d'Ame' as we say in French ('Added Soulfulness').
ZEFYR LIFE's website: http://www.zefyrlife.com.
About Louis Benech: Louis Benech came to gardening and landscape architecture via a real love of plants. In 1990, Benech was commissioned with Pascal Cribier and François Roubaud to restore the ancient part of the Tuileries Gardens. Since then, he has worked on many established and historic gardens, such as the Elysée Gardens and the Quai d'Orsay (both in Paris), Courson (southeast of Paris), Pavlovsk's rose pavilion (St Petersburg), the Gardens of the Achilleion (Corfu), the main square of the National Archives in Paris ; the park at Chaumont sur Loire or a contemporary garden for the palace of Versailles (the Water Theatre Grove).
With a growing team, Louis Benech has now created way over 300 garden and park projects, both private and public, stretching from Korea to Panama, Peru, Canada, the United States, Portugal, Greece and Morocco. He has worked for individuals of many different nationalities, and many international organisations such as Hermès, Axa and Suez.
Louis Benech is cofounder of the Conservatoire des collections végétales specialisées ; Member of the Royal Horticultural Society ; Member of the Worshipful Company of Gardeners (London) ; Member of the International Dendrology Society (since 1987) ; Expert member of the Observatoire des Tendances du Jardin since its creation in 2002 ; "Honorary artist" in 2006/2007 for La Source Foundation (creation of an "extraordinary garden" with children) ; Winner of the "Talent d'Or 2007" at the "Sommet du Luxe et de la Création"; Member of the Conseil National des Parcs et Jardins (within the French Ministry of culture) between 2007 and 2013 ; Member of the selection committee for the Journées des Plantes de Courson ; Jury member on the Prix Redouté ; Jury president on the 2008 International Garden Festival of Chaumont- sur-Loire ; Prix de l'Equerre d'Argent for La Cité des Métiers Hermès à Pantin. Chevalier of the Légion d'Honneur ; Chevalier des Arts et des Lettres.
About ZEFYR LIFE: ZEFYR LIFE is rallying world-conscious high achievers globally through conversations. ZEFYR LIFE features intimate conversations with talented personalities whose lives are defined by uncompromising freedom, pioneering creativity and willpower. Personalities who believe that our lives can be designed and that the world can be changed if we first change ourselves. In today's interconnected world, change can happen faster than ever. Zefyr Life wants to encourage people to 'Think big, because the world is small'.
Source :
ZEFYR LIFE Ltd.