Carole Feuerman Sculpture Featured at INTO ACTION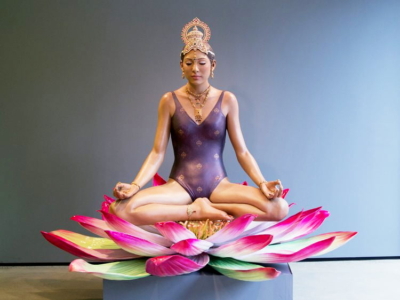 Press Release (ePRNews.com) - LOS ANGELES - Jan 17, 2018 -  Carole A. Feuerman will present her bronze monumental sculpture called "DurgaMa Buddha" at INTO ACTION! (www.into-action.us). The event is ongoing at 1726 N. Spring Street, Los Angeles, CA as a celebration of community power + cultural resistance, bringing together hundreds of the nation's top artists, activists and influencers for provocative installations, panels, workshops and performances. The nine-day festival of unprecedented scale opened in Downtown L.A. on Saturday, Jan. 13 with a performance by the Black Eyed Peas and will run to Sunday, Jan. 21, 2018, to shine a light on injustices and galvanize the powerless to resist oppression and reclaim hope. INTO ACTION! falls on Martin Luther King Jr. Day and marks the one-year anniversary of both the presidential inauguration and the Women's March.
Carole A. Feuerman's sculpture "DurgaMa Buddha" evokes the power of women in regeneration and rebirth. Durga is an aspect of Devi from the Shakti tradition of Hinduism, a warrior and creator goddess. She is love. She is invincible. She is woman, caring and affectionate. Feuerman contrasts the power and ferocity of the goddess by depicting her at peace in a swimsuit, as if she is in a moment of relief, of balance and recovery after her battles.  Feuerman chose this work for the festival as a reminder that being able to practice self-love is vital to avoid the burn out that comes with the constant struggle of resistance.
Her submission was approved by a selection jury that included the musicians John Legend and Harry Belafonte, leaders like Planned Parenthood president Cecile Richards and Trans Latina Coalition president Bamby Salceda, along with other notable figures in the world of art and activism.
[Feuerman's sculpture is] a reminder that being able to practice self-love is vital to avoid the burn out that comes with the constant struggle of resistance.
Carole A. Feuerman is a pioneering hyperrealist sculptor. Together with Duane Hanson and John De Andrea, she was one of the three leaders that started the movement in the late seventies by making life-like sculptures that portrayed their models precisely. They are meticulously detailed to create the illusion of a new reality.  Feuerman's studio is one of the only studios that can produce these hyperrealist figures in a way suitable for the outdoors, allowing her intimate works to be installed in public spaces around the world. Dubbed 'the reigning doyenne of super-realism' by art historian John T. Spike, Feuerman has solidified her place in art history.
Through her sculptures, Feuerman tells stories of strength, survival, balance and the struggle achieve. DurgaMa Buddha's swimsuit links her to Feuerman's best known series "Swimmers," large-scale sculptures of figures recently emerged from the water complete with water drops. Feuerman has spent the last four decades sculpting monumental, life-sized, and museum-sized works in bronze, resin, and marble.
INTO ACTION will continue this week with events including a printmaking workshop with Boyle Height based Self-Help Graphics & Art Thursday to prepare for the anniversary rally of the Women's March and a conversation with John Legend and Bryan Stevenson on criminal justice in Los Angeles on Friday.  After the Women's March Rally at Pershing Square on Saturday, NationBuilder will host a panel about the emotional, economic, and societal costs of the leadership gap facing women and what can be done about it, an issue dear to Feuerman's heart.
For more information, contact:
Jennifer Gross | Evolutionary Media Group
O: 323-658‐ 8700
C: 323-646-8412
Source :
Carole Feuerman

Business Info :
Carole Feuerman Studio
28 West 27th Street (488)
New York, NY 10001