TFC brings thanksgiving tour of the PH's most successful seriesFPJ's Ang Probinsyano to the world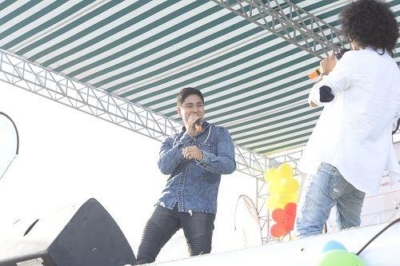 Press Release (ePRNews.com) - DUBAI MEDIA CITY, UAE - Dec 08, 2016 - After creating television history as one of the longest-running and most-loved TV series on Philippine television, ABS-CBN's "FPJ's Ang Probinsyano" gives back all the love to the Filipino audiences of the world as The Filipino Channel (TFC) kicked off its world tour at the two-city "Isang Pamilya Tayo" recently in the Middle East. The first leg of the world tour also marks the start of TFC Middle East's 20th anniversary celebrations.
"FPJ's Ang Probinsyano" the teleserye, is the most successful Filipino drama series in recent years in terms of longevity and viewership as it has been on air for over a year and has gained consistently high viewership both on Philippine television (based on TNS Kantar Ratings) and globally as well via TFC.
This year, as a way of thanking its supporters, the series brought its television journey from the Philippines to the world, kicking off its concert tour in Manila just this October and the world tour in the Middle East this December, a significant part of the region's anniversary kick-off.
True to its promise, "FPJ's Ang Probinsyano: Isang Pamilya Tayo" the thanksgiving event, gave back to its audience with performances and music from the members of the cast led by lead actor and King of Primetime Coco Martin.
Martin admitted that he personally asked the ABS-CBN management to bring him to Middle East to be with his kabayans. Martin, addressing the Pinoys who came said: "I have so many blessings and I wanted to give it all back to you. I really wanted to come here and thank you personally."
Because of his humility and heart, capped by his magnanimous talent, Martin continues to endear himself to the audience not only in the Philippines but also in the Middle East.
In the series, viewers admire Martin for his portrayal of Cardo who personifies a man with a simple dream – to give his family a decent live despite the complications and challenges of living by the values he holds dear as a Filipino.
Aside from admiring Martin, Filipinos in the region can also relate both with Martin as Cardo and as a Pinoy, because of their dreams and struggles. During the "FPJ's Ang Probinsyano: Isang Pamilya Tayo" the thanksgiving event, kabayans were surprised to hear that he too, was once like them.
"Before I became a celebrity, I was an overseas Filipino worker like you. I left the homeland believing that I could give my family a better life. I know that this is also what you aim for and that is why you are here. I understand this because I've been there. I love you all."
Martin also earned the admiration of kabayans when they learned that the award-winning actor was actually battling sickness during the event. The actor shared: "Despite our hectic schedule and physical fatigue, we do not feel as tired because we know that we make you happy and we inspire you Filipinos."
Martin's hard work paid off as kabayans continued to show their love as Filipinos from as far back as Jeddah and Riyadh lined up as early as 6 a.m. just to make sure they got best view in the house at the much-awaited Filipino event in the Eastern region.
Martin paid back to his audience with his performances of songs such as "Ako Si Superman" which speaks exactly of the Filipino strength and resilience.
Joining Martin on stage to pay tribute at the Al Khobar leg via the TFC Hour of PINAS-SAHI's yearly Filipino Community Day on December 2 is sidekick Pepe Herrera.
Herrera held his own with his rendition of iconic Pinoy songs such as "Kapayapaan," among other Pinoy hits. Together, the two brought the house down with their rendition of novelty hit "Totoy Bibbo."
Completing the Al Khobar leg is "The Voice of the Philippines" finalist Daryl Ong who sang OPM hits such as teleserye theme "Basta's Kasama Kita. "
While the Al Khobar leg welcomed kabayans as early as dawn, Filipinos in Dubai showed their love as well at the thanksgiving and TFC Middle East's 20th Anniversary kick off during the Dubai leg on December 3. The audience joined Princess of the Dance Floor Yassi Pressman in her showcase of dance moves.
Later on, Martin joined Pressman for a duet of Yeng Constantino's hit "Ikaw" which thrilled the fans to no end.
Meantime, child wonder Onyok stole the limelight as he sang the children's song gone viral "Tatlong Bibe" (Three Ducklings).
Highlighting both Al Khobar and Dubai's thanksgiving event were Martin's rendition of the theme "'Wag Ka Nang Umiyak" originally sung by Gary Valenciano and the Kapamilya stars' performance of ABS-CBN's 2016 Christmas Station ID "Isang Pamilya Tayo" which captured the essence of the event. "FPJ's Ang Probinsyano" was chosen to kick off TFC Middle East's 20th anniversary because of how the series mirrors the lives of OFs and Cardo shows how, armed with resilience and their family's support, Filipinos can see through the challenges.
Proving that TFC is beyond content and engages Filipinos in meaningful experiences that will help them cope at their second homes, TFC also sponsored an inspirational and motivational talk at the Dubai leg from entrepreneurship guru and DZMM "Radyo Negosyo" host Carl Balita.
Witness Cardo's journey in "FPJ's Ang Probinsyano" on TFC cable, satellite, and online (TFC.tv) and Carl Balita via "Radyo Negosyo" on DZMM. For more updates on TFC Middle East's 20th anniversary year-long celebration, your favorite shows and Kapamilya stars, visit facebook.com/TFCMiddleEast or visit emea.kapamilya.com
Source :
ABS-CBN Middle East FZ LLC