TFC gets second Anvil Award for its overseas voting campaign, wins gold for #Vote4ASelfieWorthyPH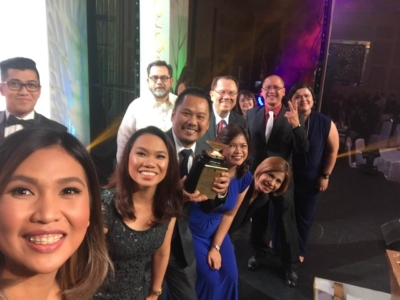 Press Release (ePRNews.com) - QUEZON CITY, Philippines - Mar 28, 2017 - After a history-making voter registration and turnout for the 2016 Presidential elections, the Philippine overseas voting (OV) celebrates another milestone as The Filipino Channel's (TFC) #Vote4ASelfieWorthyPH earned the network its second Anvil Award for a campaign with the goal of propagating the overseas Filipinos' (OF) right of suffrage.
TFC's campaign #Vote4ASelfieWorthyPH earned a Gold Anvil this time, from the 52nd Anvil Awards for its exemplary performance under the category PR program Directed at Specific Stakeholders, External Consumers, Communities, Special Interest /Advocacy Groups during the formal rites held recently at the Makati ShangriLa Ballroom in Makati City, Philippines. TFC first earned a Silver Anvil for the 2012-2013 OV campaign dubbed "Boto Mo, Kinabukasan ng Bawat Pilipino."
According to outgoing Public Relations of the Philippines (PRSP) President Ronald Jabal, APR, "An Anvil Award is a much-coveted recognition. It's not just a mark of excellence but also a manifestation of a good deed done." He adds: "An Anvil Award is not just a trophy to brag about but also a metal of gratitude – a deep sense of thanks to people who have allowed us to shine. An Anvil Award is not just a badge of honor but also a breadth of life to communities we take care of."
TFC's overseas voting campaign, a fruition of the network's partnership with the Department of Foreign Affairs Overseas Voting Secretariat (DFA – OVS) and Commission on Elections Office for Overseas Voting (COMELEC OFOV), was created with the objective of supporting the government partners' campaign to increase the registration in 2015 and voter turnout in 2016.
The campaign was articulated as #VoteforASelfieWorthyPH because it harnessed the power of the social media phenomenon selfie to paint a more realistic picture of the Philippines and how, with the OF vote, we can all create a better homeland that can be deemed worthy of a selfie.
According to ABS-CBN Global Head of Corporate Affairs & PR Nerissa Fernandez, the campaign has long been part of TFC's public service. Fernandez says: "Since the registration and national elections in 2012 and 2013, TFC has been partners with DFA – OVS and COMELEC OFOV and we continued this tie-up for the 2015 registration and the 2016 Presidential elections because we believe that the overseas Filipino vote can positively impact the Philippine electoral landscape.
Fernandez adds: "#Vote4ASelfieWorthyPH recognizes the OF voters and their major role as catalysts for meaningful change. Lastly, the Anvil Award award also validates the importance of the work and passion that our team puts into inspiring our kababayans with the help of other Kapamilya teams and stars."
The campaign bagged a Gold award from among four hundred two entries in eight categories adjudged winner by a board of 33 jurors from the public and private industries that include top executives from the PR industry and government officials including Accredited Public Relations (APR) professionals and Secretary Silvestre Bello III and Department of Social Welfare and Development Judy Taguiwalo.
Anvil Awards Committee Chairman Rochelle Gamboa said the winners were chosen based on a stringent judging process that recognized the entries for their rhyme, reason and results. Gamboa expounds: "Rhyme for concept and execution; reason for the profound purpose and communication and objectives and how they were achieved; resonating results for the impact that these programs and tools have made on the target stakeholders."
For the #Vote4ASelfieWorthyPH campaign, the results came concretely in the form of the total turnout during the campaign. According to COMELEC OFOV Chairman Atty. and Commissioner Arthur Lim: "Quantitatively, compared with the total registered voters prior to the commencement of the agreement with ABS-CBN and TFC, the total registered overseas voters was 815,307. However, after August 26, 2015, the volume of applicants steadily increased and at the end of the information campaign conducted by the office and its partners the registered voters became 1,376,067 or gained an increase of 46.39%." He adds: "As to voter turnout in the 2013 national elections, it was 118,823 while in 2016 voter turnout was 430,695 or a 27.59% increase."
According to DFA OVS Vice Chairman Edgardo Castro the agency may have had other media partners to count on to propagate the campaign but TFC has the widest global coverage. He says: "TFC is an invaluable partner of the DFA-OVS in its campaign to implement the OV Act. TFC's consistent coverage of OV events has gone a long way in making the public aware of the importance of politically empowering the overseas Filipino."
OV registration is on-going and will commence in September 2018. All qualified Filipino citizens who expect to be abroad during the OV period for the 2019 elections from April 13 to May 13 may register at all Philippine Foreign Service posts including three Manila Economic and Cultural Offices (MECO) in Taiwan and Philippine Overseas Labor Office (POLO) in Al Khobar. For more information visit www.dfa-oavs.gov.ph or www.comelec.gov.ph
#VoteforASelfieWorthyPH is one of three entries from ABS-CBN Corporation that earned a Gold.
Receiving the award on behalf of Fernandez are GCA and PR Associate Marianne Ferrer de Vera and PR Specialist Jocelyn Jimenez and partners Commissioner Lim and DFA OVS Vice Chairman Edgardo Castro and campaign endorser and Bantay Bata Program Director Jing Castañeda. Also in attendance was the internal ad agency team of ABS-CBN Global —– Marketing Communications department represented by Creative Director Jay Santiago, Visual Designer Jennifer Pacubas, Producer Maureen Paril, and Copy Group Head Charles Bautista;
For more updates on TFC, visit facebook.com/KapamilyaTFC or follow us KapamilyaTFC on Twitter and IG.
Source :
ABS-CBN Global Ltd.