TFC and ABS-CBN Regional come full circle as Kapamilya Fiesta World mark 10yrs in Barcelona
ABS-CBN prime stars Bea Alonzo, Gerald Anderson Enchong Dee,Pooh, and Piolo Pascual celebrate a decade of the annual Filipino event and reward their fellowmen for 10 years of support through entertainment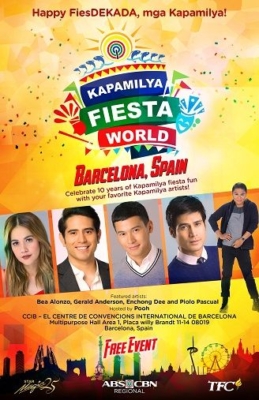 Press Release (ePRNews.com) - BARCELONA, Spain - Oct 12, 2017 - Ten years after the launch of one of the most much-awaited Filipino gathering in Europe, the 2017 "Kapamilya Fiesta World' feels like a homecoming as it celebrates a decade of bringing homegrown entertainment and gathering Filipinos in the spirit of community, to where it all started — Barcelona, Spain.
From the largest multi-media conglomerate in the Philippines comes a celebration fitting of a decade-long service as The Filipino Channel (TFC) and ABS-CBN Regional bring in the premier network's top artists led by Bea Alonzo; Gerald Anderson; Enchong Dee; and Piolo Pascual with Pooh on October 15 at the CCIB AddressCCIB – El Centre de Convencions Internacional de Barcelona Multi-Purpose Hall Area 1Plaça Willy Brandt 11-1408019 in Barcelona.
As early as September, anticipation has been high as patrons of the decade-long "Kapamilya Fiesta World" look forward to another happy reunion with the exciting line up of the Philippines' biggest stars, one of whom have been part of the very first "Kapamilya Fiesta World".
Prime Star Magic artist Alonzo, dubbed This Generation's Movie Queen will once again enthrall the audience with both her much-admired beauty or "belleza" and multi-faceted talent. Alonzo was part of the ensemble that launched "Kapamilya Fiesta World" and TFC and ABS-CBN Regional found it fitting for her to go on stage at "Kapamilya Fiesta World" 10th year.
Joining Alonzo is Star Cinema film "How To Be Yours" leading man and Millennial Heartthrob Anderson who has been known for his dance moves and endearing performances both on screen and on stage, that will leave the audience's heart's pulsating "rapidamente". Fellow dance floor dynamite Dee will also move the audience to excitement (exitacion) with his signature moves, proof that he the actor-singer-composer dubbed Chinito Heartthrob is a dance royalty too.
Also top-billing the "Kapamilya Fiesta World" in Barcelona this milestone year yumz is Pascual, dubbed the Ultimate Kapamilya Heartthrob who continues to show "amor" or love for his fellowmen with his unwavering charm coupled with remarkable talent in acting, singing, and even producing.
Providing comic relief to the thrill is comedian Pooh, a "Kapamilya Fiesta World" regular too, who will also host the event.
As a way of thanking Kapamilyas in Barcelona, premium access will be provided for Filipinos in Barcelona and all of Spain. To join the festivities, Filipinos in Spain can simply download the TFC.tv app (available on the App Store and Play Store) or subscribe to TFC DTH, IPTV or TFC.tv
The homecoming that is #KapamilyaFiestaWorldBarcelona2017 (https://www.facebook.com/hashtag/kapamilyafiestaworldbarc…)! happens this weekend.
For inquiries, please call 800 7868 4535 or visit emea.kapamilya.com or facebook.com/TFCEurope. Follow KapamilyaTFC and KapamilyaGlobalPR via facebook, Twitter and Instagram
Source :
ABS-CBN Europe Ltd.