Dolce Amore spreads sweet love across EU via TFC's Destiny World Tour w/ LizQuen this June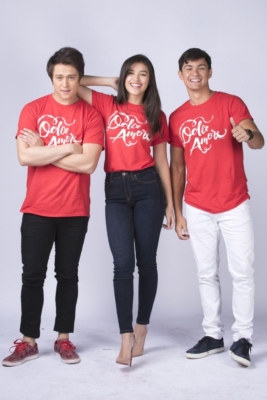 Press Release (ePRNews.com) - EARLS COURT, England - Jun 08, 2016 - The Filipino Channel (TFC) continues to spread the love to Filipinos worldwide by bringing its widely followed shows to Filipinos in every part of the globe. Starting off with the "JaDine Love World Tour" in March, TFC now seals its destiny of being the purveyor of homegrown content as it brings the thrill and excitement of "Dolce Amore: Destiny World Tour" this June to four key cities in Europe.
According to ABS-CBN Managing Director for Europe, Middle East, and Africa Kai V. Rodriguez, TFC started reaching out to the overseas Filipino audience through events that leverage on the entertainment value of world-class programs early this year. Rodriguez says "TFC's thrust is to make its core service continuously evolve with the needs and wants of our customers. One of these is their call to bring the level of entertainment that each teleserye brings to the worldwide audience, live."
Rodriguez adds, "Equipped with ABS-CBN's content expertise, TFC tries to replicate this through our events. 'Dolce Amore' is one of our choices because it speaks of a story of a Filipina who loses her identity in a foreign land and how she remains passionate in finding her identity. While her story is not exactly the same as every Filipino's, it tells of our kababayans' determination and resilience."
This time, TFC brings no less than this season's top-rater "Dolce Amore" where the main character played by Liza Soberano is Filipina Serena/Monica who may have been raised by her Italian adoptive parents, but continues to search for her roots and real identity.
Childhood penpal Jose Vicente "Tenten" Ibarra played by Kapamilya Heartthrob Enrique Gil is also like Serena, missing a link from the past. Their search brings them together and apart but their love always seems to find a way to bring them together.
During the "Dolce Amore" concert LizQuen will sing the songs from the teleserye where Tenten plays a musician: "Muling Magakalayo," "Your Love (originally sung by Alamid and interpreted by Juris for the teleserye). Joining LizQuen in some of the Destiny Tour legs is Matteo Guidicelli who completes the love triangle created in the teleserye.
Aside from bringing the songs made memorable by "Dolce Amore," the "Destiny World Tour" will also let our kababayans win an opportunity to sing with their favorite teleserye's stars by submitting 1 to 2-minute video of themselves singing "Ikaw" by Yeng Constantino or "Maging Sino ka Man" by Erik Santos with or without background music or musical instrument and uploading them on Facebook and tagging TFC Europe's official page.
Participants must fill out the form at bit.ly/DolceAmoreOpenMic and click submit for their entry to qualify. The video with the most likes will win. Other prizes at stake are two free VIP tickets and two photo op badges.
Meantime, "Dolce Amore" merchandise items will also be available at the "Destiny World Tour's" four venues.
Filipinos in Europe are also destined for greatness as well because "Pinoy Big Brother (PBB)" Season 12 will also conduct auditions in Yorkshire, and Milan.
Fall in love with the cast of "Dolce Amore: Destiny World Tour" as it makes a stop-over at the Yorkshire Barrio Fiesta with Soberano and Gil on June 11, Saturday at 10 a.m. at Boroughbridge Road, Ripon, North Yorkshire HG4 1UG, (with TFC Hour at 3pm.); at the Paris Sportsfest on June 12 at the Stade La Muette 6 Blvd Lannes 75016 Paris at 9 a.m. withGuidicellijoining the TFC Hour at noon; Milan Grand Fans' Day sa Teatro San Fedele via Heopil, 3b, Milano near Galleria Vittorio Emmanuelle/Luini on June 12, 2016 at 6 p.m.; and "One Kapamilya Go!" in Mitsubishi Electric Halle Dusseldorf, Germany on June 19 at 12 noon with the three main cast and other Kapamilya stars at 12 p.m.
Tickets to the Yorkshire Barrio Fiesta are at GBP 30 VIP and GBP 5 General Admission. For Paris Sportsfest, tickets are at EU 20 for VIP and EU 12 for General Admission. For the Milan Grand Fan's Day, VIP tickets are at EU 25. For OKGO! Germany, only Silver tickets at EU 10 remain. Platinum ticket holders are entitled to an OKGo! loot back and 1-month TFC.tv Lite subscription. For complete ticket sellers and information visit emea.kapamilya.com
Use the official hash tag of "Dolce Amore Destiny World Tour" #DolceAmoreDWorldTourTFCEMEA
Source :
ABS-CBN Europe Ltd.