Atlanta Soprano Awarded in National Competition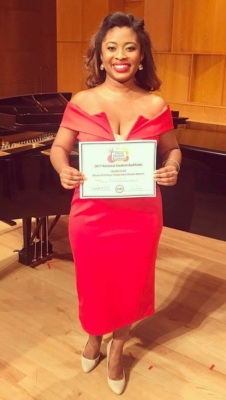 Press Release (ePRNews.com) - ATLANTA - Jul 26, 2017 - Lyric soprano Kayla Harriott took home second place honors during the National Student Audition Competition. Presented at the National Association of Teachers of Singing, (NATS) summer workshop this past weekend, the event was held at the University of Colorado-Boulder College of Music. Winners were selected in fourteen different categories and over $35,000 was awarded. Harriott ranked in the Women's Advanced College category.
The year's theme for the workshop was "Pedagogy and Performance" which celebrates the continuing legacy of voice coaching and pedagogy. The workshop included master classes, mentoring sessions, and presentations.
"I am beyond thrilled to take home second place honors in my category," Harriott said. "I am grateful to my teacher, Indra Thomas along with my family and friends for their support. This is only the beginning."
Prior to the semifinals in Colorado, Harriott submitted a video via You-Tube to advance to the onsite round. A native of Queens, New York who currently lives in Atlanta, her past performances include the role of "Clara" in the opera Werther as well as the title role of "Amahl" in Amahl and the Night Visitors. Most recently she performed for the national program, Delta Authors on Tour in Atlanta, which was hosted by actor Brad Sanders.
About Kayla Harriott
Kayla Harriott is a classically trained lyric soprano. She has been studying privately for several years. In addition to performances in various operas, she also performs for private clients for weddings, anniversaries, and other special occasions. She has participated in The National Association of Teachers of Singing Competition from 2011-2017 where she has placed first in state competition each year. She is currently studying at Georgia State University in the School of Music.
About the National Association of Teachers of Singing
Founded in 1944, National Association of Teachers of Singing, Inc. (NATS) is the largest professional association of teachers of singing in the world with nearly 7,000 members in the United States, Canada, and nearly 30 other countries. Internationally, NATS is represented in Argentina, Australia, Austria, Belgium, Bolivia, Brazil, China, Colombia, Denmark, France, Germany, Greece, Hungary, Indonesia, Ireland, Italy, Japan, Malaysia, Mexico, Netherlands, Portugal, Singapore, South Korea, Spain, Sweden, Switzerland, Taiwan, and the United Kingdom, with the number of countries growing every year.
Source :
Terp Heel Group

Business Info :
Terp Heel Group
United States