Attibassi Gets A Double-shot Of Italian Flavor With Fabbri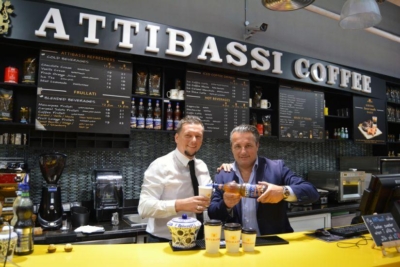 Press Release (ePRNews.com) - DUBAI, UAE - May 25, 2016 - Italian coffeehouse Attibassi has teamed up with compatriot-company Fabbri, to create specialist flavored coffees in the UAE and internationally.
Attibassi Coffee and Fabbri announced the partnership at a launch event at Attibassi's Dubai Mall branch with a coffee-mixology and tasting session ran by Italian barista Vittorio Agosti.Both companies were founded in Bologna, Italy, and have a combined expertise of over 200 years in the beverage industry. The announcement coincides with Italy's Republic Day celebrated on June 2nd, which celebrates Italian history and culture.
This partnership follows an increasing demand of the global trend of coffees to be prepared using specialist flavors. It was reported in the United States of America that sales of gourmet coffee-drinks have almost tripled in the last few years, and signs of this trend are now being seen in all of Attibassi's seven stores across the United Arab Emirates:
"We've noticed a 30% increase in UAE customers asking for flavored beverages over the last year. Whilst our traditional coffees are still popular as ever, we want to make sure Attibassi is catering to all of our customers' needs. Fabbri, given our shared Italian history and emphasis on quality, is the perfect partner to do this"
Managing Partner, Attibassi, Costantino Bertuzzi.
Fabbri, which is globally recognized for Amarena Cherries, is also known for their innovative syrups that contain the highest percentage of real fruit concentrate than any other syrup brand. Fabbri's quality range of MixyBar syrups are top choices for baristas and connoisseurs around the world. Classic flavors are used for flavoring coffee, cappuccino, hot chocolate and cocktails which transform the most traditional coffee or cocktail recipes into unique specialties. Fabbri's full range of syrups are natural and do not contain any preservatives. Syrup flavors in the Fabbri range include Almond, Caramel, Hazelnut, Amarena and Mint.
"Fabbri and Attibassi coming together here in Dubai is a great move in the right direction as these Italian companies are well known for their products and expertise. With the complete range of Fabbri's unique portfolio in the mix, Attibassi is sure to have the best quality products for their beverages, which is certainly good news for consumers to experience a truly authentic taste of Italy" said Beverage Manager, Emirates Snack Foods, Slaven Macura.
About Attibassi:
The Attibassi brand was born in Bologna, Italy, in 1918 when two local confectioners, Mr. Agostino Atti and Mr. Marco Bassi, teamed up to create great-tasting Italian coffee. Attibassi Coffee has since grown to be an international coffeehouse with eight franchise stores in the UAE so far, along with stores in KSA, Oman, Qatar, and the United States of America. Attibassi Coffee prides itself on using only the finest ingredients, including Attibassi's coffee beans from its Italian roastery.
For press information contact:
Rosie Roarty, Marketing Manager, Attibassi
marketing@araratinternational.com
For franchise opportunities contact:
Dan Dinapoli, Chief Operations Officer, Attibassi
Dan.Dinapoli@araratinternational.com
About Fabbri 1905:
Fabbri 1905 (Bologna, Italy) started with humble origins in 1905 by Gennaro Fabbri and his wife Rachele. Now in its fifth generation as a family-owned business, Fabbri has become a worldwide leader in the industry. Fabbri continues to innovate and create products that help prepare world-class gelatos, beverages and desserts.
Emirates Snack Foods LLC is one of the leading distributors in the UAE for globally recognized food and beverage brands. ESF is proud to be the distributor of Fabbri in this region.
For more information contact:
Slaven Macura, Beverage Manager, Emirates Snack Foods LLC
slaven@esf-uae.com
Source :
Attibassi,Fabbri