Autonomous Eye wear and Innovation
Micro Eyewear Inc. a hi-tech start-up is developing first-generation exponential technology and products that have never been commercialized or used by consumers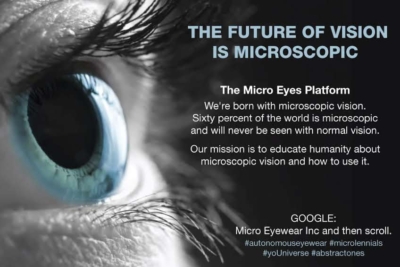 Press Release (ePRNews.com) - Arizona, United States - Mar 26, 2020 - Micro Eyewear Inc. a hi-tech start-up is developing first-generation exponential technology and products that have never been commercialized or used by consumers.
The first-ever line of autonomous eyewear with microscopic vision. We've planned to reinvent the microscope into wearable technology.
Glasses that will enable people to see objects at Micro and Nanoscale 24/7 on-demand in real-time.
Fast and easy:

21st-century technology being developed to help people make eye contact and adapt to the commercialization of the Micro and Nano industries.
All of today's wearable technology/ eyewear only utilize Cyberspace and computer-generated images.
Autonomous eyewear has the same capabilities as a light microscope. And utilizes Micro and Nano space where people can do a lot more than Cyberspace.
With many applications that can be used by professionals and consumers at home for everyday use.
Autonomous Eyewear can be used as a medical device to perform self-testing. As a solution to combat COVID-19 the microscopic level is the earliest level for prevention and protection against Pandemics.
We are born with microscopic vision. Sixty per cent of the world is microscopic and can't be seen with the naked eye.
Trying to see and function one dimensional in a multi-dimensional world will not allow us to continue to survive in our ever-changing environment.
The same way mobile devices connected us to Cyberspace and the internet when little was known. Now it has matured and can be run by bots. We want to do the same with Micro and Nano space.
Our mission is to educate humanity about microscopic vision. And how to use it to make eye contact at Micro and Nano levels in Micro and Nano space.
The Future of Vision is Microscopic we want people to see themselves under a microscope. As easily as they see themselves in a mirror.
CONTACT:
Micro Eyewear Inc.
boze@microeyewearinc.com
Source :
Micro Eyewear Inc