Avail Dental Exit Advisory Services Announces Expansion of Dental Training & Seminars For Dentists Who Are Interested In Transition Planning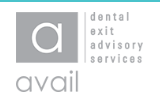 Press Release (ePRNews.com) - Alberta, Canada - Jun 18, 2018 - Summary: Avail Dental Exit Advisory Services Founder, Darren Shanahan, announces expansion of training and educational seminars for dentists wanting to learn more about transition planning for their practice. Shanahan reports the recent growth in the company, has directly correlated with demand for more trusted and reliable information on transition planning so Avail has introduced more topics to their existing toolbox oftraining and educational seminars on transition planning and other related topics.
As dentists plan to exit their practices in the coming years and younger dentists look to purchase practices, both are looking for reliable and trusted advisors to assist with planning their unique transition strategy – Avail Dental Exit Advisory Services has announced more seminars and training opportunities in Western Canada to support this growing demand.
Information and topics include but are not limited to: Selling In A Down Market, When To Sell My Practice, How To Buy A Dental Practice, Expanding My Dental Practice, Dental Practice Sales Update, What Numbers To Watch In My Dental Practice, and When To Renew My Lease.
Shanahan reports, "Practice owners are getting more and more strategic and want to give themselves enough time to meet their unique goals – whether that be finding the right dentist to take over & continuing their legacy, getting the highest dollar amount, expanding their practice or something else they are working towards, they are being more proactive to make the best long-term decision for themselves." He further states, "With political and financial climates changing all of the time, it's important to have the right information from the proper professionals in order to make an informed decision about the future of their practice. We take pride in quarterbacking and assisting them through this transition to make it as seamless, efficient, and profitable as possible."
Shanahan admits that when dentists and clinic owners don't have all of the accurate numbers and information, they are risking losing thousands of dollars not to mention the time and resources that they may unnecessarily sacrifice in the process. "Our training and seminars are designed to allow dentists to be strategic about the decision they make during transition planning for their practice however, not every dentist has the luxury of time on their side so that's when we come in and guide them through the process that makes most sense for them."
The training and educational seminars Avail Dental offers are based on first-hand experience with 40-50 practices each year and that number is growing consistently.With valuable market insight, and sought-after expertise in the dental industry backed by a world-class client experience, Avail Dental is set to continue their reputation as a go-to resource in dental transition planning for many years to come.
If you have questions about transition planning, want to attend any upcoming transition planning seminars, or would like to have a confidential conversation with Darren Shanahan and his team at Avail, visit AvailDentalAdvice.com or call 1-866-Go-Avail (1-866-462-8245).