Darren Shanahan Grows Dental Broker Services & Expands Team At Avail Dental Exit Advisory Services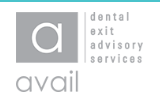 Press Release (ePRNews.com) - Alberta, Canada - Jun 14, 2018 - With the continued demand for support through dental practice transitions, valuations, planning and consulting – Avail Dental Exit Advisory Services Founder, Darren Shanahan, hires more team members as well as partners with new Associate Broker in Saskatchewan. The addition of the supporting team member will allow Avail Dental to continue to beready to answer any questions dentists have about dental consulting, trusted valuations, buying or selling a dental practice – as well as strive to create a different client experience by providing attention, one-on-one, collaborative services.
Avail Dental Exit Advisory Services client-first focused sales experience, leadership, management, and financial advice equal an unprecedented level of service which has been getting the attention of the marketplace and dentists looking to buy or sell a practice. They are attentive to each client's unique requirements and work to guide them through a hassle-free experience and set the standard for world-class service in the dental broker industry.
Year over year, Avail Dental has seen positive growth since their inception in 2011 and Founder, Darren Shanahan notes, "The marketplace has grown significantly with the number of dentists looking to retire as well as the new ambitious dentists who are looking to buy a practice – the marketplace is going to be very interesting to watch over the next 5-10 years. It was a no brainer for us based on the consistent growth we've seen to continue to add key members to our team to maintain our high standards for client focused service."
Shanahan admits that adding the additional support team members as well as an Associate Broker (Matt Dominguez, retired CFL player for the Saskatchewan Roughriders) in Regina, Saskatchewan will allow them to continue to serve existing clients as well as move into key markets they have identified. "Matt (Dominguez) has significant experience in the real estate industry in commercial, residential and farm industries so adding in the medical and dental brokerage services was a natural addition. He's incredibly knowledgeable, professional and just an all-around great guy – we are excited to have him as part of our team."
Avail Dental offers a number of dental broker services and is also looking to expand their training and seminar programs, as well as list of events and tradeshows they will be attending in 2018. They will continue to lead the dental broker industry and bring integrity and expertise to the table for sales, financial, management, leadership and transition counselling during practice transition and expansion.
Should you have any confidential questions for Darren Shanahan & his team at Avail Dental Exit Advisory Services, call them toll-free 1-866-Go-Avail (1-866-462-8245). To learn more about Avail or for media inquiries, please visit www.AvailDentalAdvice.com