AxessPointe Community Health Centers, Inc. Names New Chief Medical Officer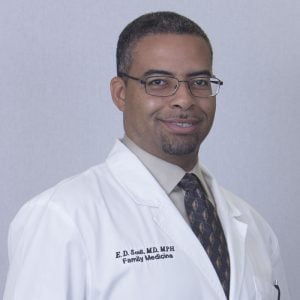 Press Release (ePRNews.com) - AKRON, Ohio - Aug 17, 2017 - Edward Demond Scott, MD, was appointed as the new Chief Medical Officer of AxessPointe Community Health Centers, Inc. Dr. Scott joined the AxessPointe team in November 2014 as a provider at the Kent location.
Dr. Scott previously served as the Executive Director for the Center for Health Equity at Summa Health System. The center focused on recognizing and addressing obstacles to health and providing high-quality care for those who live in underserved communities.
Dr. Scott has also held positions at Robinson Memorial Hospital Affiliates (now University Hospitals Portage Medical Center), Austintown Ambulatory Emergency Room, Ohio North East Health Systems, Inc. and is an assistant professor at Northeast Ohio Medical University.
He attended the University of Alabama at Birmingham where he earned a Bachelor of Science in Biology, received his MD from Wright State University School of Medicine and completed his residency through the Summa Health System/Akron City Hospital Family Practice Residency Program. A few years following his residency, Dr. Scott earned a Master of Public Health, with a concentration in Minority Health/Health Disparities from the University of Pittsburgh Graduate School of Public Health.
Dr. Scott is actively involved in the community and has served on numerous committees, including: the Akron Minority Health Roundtable, the Summit County Public Health Office of Minority Health Advisory Board, United Healthcare Physician Advisory Council and multiple Summa Health System committees. He specializes in Family Medicine and is respected and well-liked by professional colleagues and his patients.
Dr. Scott succeeds Dr. Charles Dhyanchand, who served as CMO of AxessPointe since June 2012.
AxessPointe Community Health Center is a federally qualified health center (or FQHC, commonly called a community health center) with five current sites in Northeast Ohio, including three in Akron, one in Kent and one in Barberton. A FQHC is a not-for-profit corporation that delivers primary medical, dental and preventive health services in medically underserved areas. AxessPointe also provides behavioral health and OB-GYN services. Originally named Akron Community Health Resources, Inc., the first center was located in Akron, and received funding in 1994 from the Bureau of Primary Health Care to establish the first federally qualified health center in Summit County. AxessPointe now employs more than 100 care providers at its five locations. Visit http://axesspointe.org to learn more.
Source :
AxessPointe Community Health Centers

Business Info :
AxessPointe Community Health Centers
676 S. Broadway St.
Akron, Ohio - 44311 United States
Phone: 3305648650
Website:
http://axesspointe.org