Bachelor Party Paradise Jaco Beach is Back in Business After Heavy Rains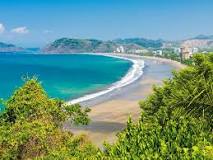 Press Release (ePRNews.com) - Jaco Beach, Costa Rica - Dec 04, 2022 - Great news, the little tropical surfing town of Jaco Beach is officially back in business! After being completely overrun by an immense amount of unstoppable rain, Jaco was totally out of commission for about a week due to the damages inflicted to both infrastructure and public and private property. A week later, the picturesque little town has seemingly recovered from the disaster, which means travel to Jaco Beach is not only possible again, but very much encouraged!
Costa Rica's geographical diversity and ideal positioning is an absolute blessing, for hurricanes almost never hit the little happy country – they approach, and then divert in another direction. However, be it, the hurricanes themselves or other tropical storms never cease to send rain Costa Rica's way. October has been especially hard for Jaco Beach – ceaseless heavy rainfall has caused major flooding, causing chaos and destruction to the little's town's infrastructure, and there has been extensive damage to both public and private property, including some of the luxurious Vacation Rentals in Jaco Beach. At least 3 feet of water ran through the streets of the ironically surf-obsessed town – scary stuff!
It took a whole week, but the collaboration between the municipality of Garabito with private businesses in the area was a success – the chaos ended, roads have been fixed and cleared, the town has been cleaned, and one by one the local businesses have started opening their doors to the public again. It's been tough, but there's nothing the little diverse community of Jaco Beach cannot do together, united. The magical town of Jaco is officially back in business and awaits your arrival! Pura Vida!