Bel Marin Animal Hospital Announces New Veterinarian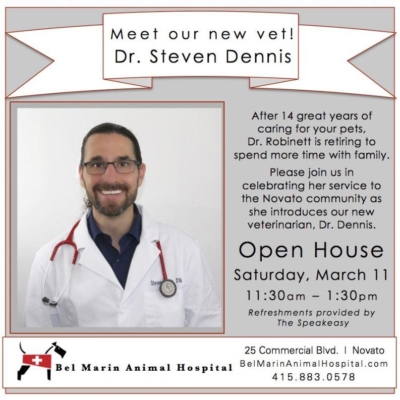 Press Release (ePRNews.com) - NOVATO, Calif. - Mar 07, 2017 - Bel Marin Animal Hospital in Novato announced today they have a new veterinarian to lead their popular Bel Marin Keys veterinary practice. Dr. Steven Dennis will assume the full time duties upon the retirement of long time veterinarian, Dr. Melissa Robinett, March 15.
"I have known Dr. Dennis for many years," said Bel Marin Animal Hospital owner, Dr. Michael Dahlman. "We are fortunate to have a vet of his caliber and disposition to serve our clients and the Novato community."
Dr. Steven Dennis is a U.C. Davis graduate with more than 14 years experience. Most of his veterinary practice has been in California with a short stint in upstate New York. Dr. Dennis has been involved in many different types of medicine from emergency and critical care to mixed animal medicine including surgery, internal medicine, and cardiology. Originally from Santa Barbara, Dr. Dennis and his wife – also a veterinarian – will make the North Bay their new home.
On March 11th Bel Marin Animal Hospital will be hosting an open house to thank Dr. Robinett for her service and welcome Dr. Dennis to Marin County.
What: Bel Marin Animal Hospital Open House
Who: Open to the Public
When: Saturday, March 11, 2017
11:30am – 1:30pm
Where: Bel Marin Animal Hospital
25 Commercial Blvd. in Novato, CA
25 Commercial Blvd.
Novato, CA 94949
415.883.0578
http://www.belmarinanimalhospital.com/
Facebook/Bel Marin Animal Hosptial ~ Instagram@BelMarinVets
Source :
Bel Marin Animal Hospital