Beville Gardens Improves Its Pruning Shear
Customers Drive Product Relaunch of their Professional Pruner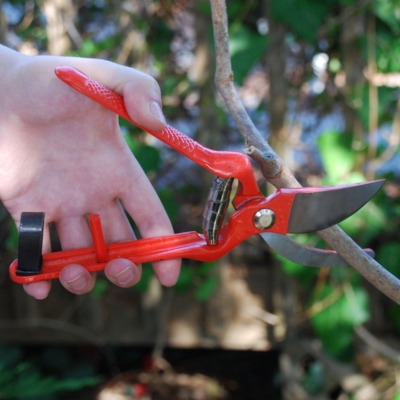 Press Release (ePRNews.com) - SANTA CRUZ, Calif. - Apr 30, 2017 - Beville Gardens, a small family-owned company dedicated to gardening products and tools, has announced the relaunch of their Professional Pruning Shears. Available now on Amazon, the product has amassed rave reviews from customers, and is ranked in the top 100 in the Pruners category.
The relaunch of the product was driven by customers who expressed concerns with certain aspects of the product. Beville Gardens took these comments seriously and made improvements to the shears in response. The shears now feature an improved closing strap, which has been made thicker and stronger. They worked to make this change without sacrificing ease of use.
Said owner MJ Pase, "We take pride in our products and joy in our yards and gardens….and listen to our customers which is why we have strengthened our blade closure strap. If it improves our product, and customers desire it, then we will of course produce it!"
In addition to the improved latch strap, the Professional Pruning Shears are heavy duty yet light-weight, non-slip, with high carbon steel blades, and are designed for use by both left and right-handed gardeners. It also comes with a holster that makes gardening even easier.
Said one Amazon customer, "This is the fifth pair of pruning shears that I bought in the last two years and I can tell you that they are the best ones I have used yet. They fit the hand very well and are comfortable to use, They cut clean and precise without causing hand fatigue which is wonderful for me."
"They make yard work seem as easy as cutting fabric with a new pair of really expensive fabric scissors. If I could rate these shears above five stars I would. They are great!!" added another customer.
Besides the shears, Beville Gardens also sells goatskin leather gardening gloves and plans to introduce a wood carrier soon. They back their products with a full satisfaction guarantee, taking returns with no questions asked. Currently, the product is on a special sale in anticipation of Mother's Day. One can read more about the product and order a set through Amazon at https://www.amazon.com/dp/B014EWOYKG.
ABOUT BEVILLE GARDENS: Beville Gardens is a family-owned company built on their love of gardening and famous green thumbs. They take joy in working on their yards, and strive to help others do the same. For more information about them, see additional products, or to contact them directly, please visit https://www.bevillegardens.com.
Source :
Beville Gardens