International Pop Star Jahna Sebastian Pays Homage To Her Indian Roots in New Photoshoot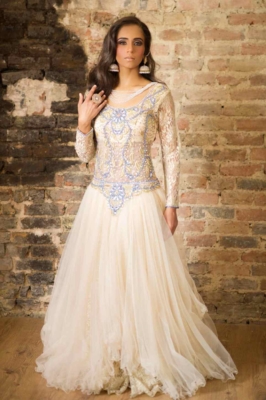 Press Release (ePRNews.com) - NEW YORK - Mar 17, 2017 - Singer, songwriter, producer, and model Jahna Sebastian is a woman of many talents. Her passion for creativity and the love for her daughter and South Indian father inspired her to shoot an Asian themed photoshoot paying tribute and honor to her Indian roots. She also wanted the shoot to capture her close bond with her beautiful daughter Nicole to celebrate Mother's Day. Ms. Sebastian's first part of the shoot consisted of three wardrobe changes with the garments being provided by designer Puneet Bhandal.
The shoot was held at photographer Maurice Sparrow's Castle Studios who is a frequent collaborator which whom she recently worked with for a shoot with designer A.P.A London. Of the many exquisite pieces that Puneet brought, Ms. Sebastian chose the purple pavada for Nicole because purple signifies creativity, wisdom, independence, and ambition all traits which well describes what type of woman Ms. Sebastian is and how she is raising her daughter to become.
The photoshoot captured her unique and close bond with Nicole and also channeled and paid homage to her father's Indian culture as mother and daughter. Her father is a proud South Indian from Kerala.
The make up and hair styling was provided by KSAVI, mehndi (henna) on her and Nicole's hand was done by Sheli Rawal and the jewelry was provided by Anisha Rawal, Nishel Creations. Ms. Sebastian previously worked with KSAVI and Nishel Creations at SKY TV 805 Channel Venus TV 10th Anniversary on December 5, 2015, where she sang and modeled Indian garments by designer Tehxeeb London, jewelry by Nishel Creations and makeup by KSAVI on the runway.
Nicole is very fond of modeling and took some stunning pictures with photographer Maurice Sparrow. The purple pavada that Nicole wore in the mother's day themed photo shoot inspired the Lil Goddess art challenge which took place on Instagram for one week. Hundreds of artist from all around the world participated and submitted their works in paintings, drawings and so many other creative representations of the photo. Nicole was rendered an icon in the art world and received so much praise and support from the art community.
Ms. Sebastian's music reflects her connection to Indian culture as well as spiritual wisdom and knowledge of India. Her father raised her to be very aware of Indian culture and tradition and she in turn passed this knowledge to her daughter. Her goal is to bridge the gap between the East and the West. When asked about what inspired her to show so much creativity and passion for different cultures she stated, "I have those elements within me with my mixed cultural background being born in USSR growing up with my South Indian dad and Russian mom, living in London now and working around the world."
Jahna Sebastian has always been ahead of her time and her music certainly reflects that. Her goal is not to just create exemplary music but to unite the world and make the world a better place through her gifts and talents as a singer, songwriter, producer and model as well as her humanitarian and philanthropic efforts.
Ms. Sebastian is currently in the studio working on new music for her upcoming project. Look out for her highly anticipated album which will be available in the coming months and includes her recently released records 'Aftermath' and 'Fearless'. Both records were written, recorded and produced by Ms. Sebastian at her studio in London, Multivizion Music.
Soundcloud 'Fearless' link:
https://soundcloud.com/multivizionmusic-1/fearless-jahna-…
Soundcloud 'Aftermath' link:
https://soundcloud.com/multivizionmusic-1/aftermath-jahna…
Jahna Sebastian Website:
http://jahnasebastian.com/music
To keep up with Jahna Sebastian check out her social networks below:
Twitter: @JahnaSebastian
Instagram: @JahnaSebastian
For interviews and press inquiries please contact Kathy Liautaud at kathy@klprgroup.com
About Jahna Sebastian
Jahna Sebastian who was classically trained on piano and earned her degree in "Music Business" at the age of 20 at the prestigious Russian Academy of Music is a multifaceted power house of talent. With her sultry vocals, captivating lyrics, hypnotic beats and exotic beauty she is a force to be reckon with. Not only is she an amazing singer and songwriter, she is an accomplished producer and engineer as well as the owner of a recording studio, Multivizion Music which since its inception has become the nucleus of Russian rap and grime scene in London. She has engineered and produced for many artist including the Russian rapper Oxxxymiron who was named Discovery of the Year at the Russian GQ awards.
Ms. Sebastian continues to pursue music while raising her daughter born in 2008 (whose father is American super producer Swizz Beatz) and for three years she had been mostly working behind the scenes juggling motherhood and work. After producing and engineering a few hundred songs for other artists, releasing her
"Emancipation EP" in 2009 and a few other songs independently, filming three music videos and acting in three short movies, a feature film "Reversed"release in 2012 and numerous commercials.
She has performed several shows with multi platinum UK band Kasabian, one of them was on MTV on Soundchain with Zane Lowe, on the main stage Pyramid at Glastonbury Festival, which has been broadcast on BBC and millions tuned in for, another being the historic show at Victoria Park in Leicester called "Summer Solstice" with 50,000 people attending. She also performed with Kasabian at the Alan Carrshow. The sultry songstress also had the pleasure of headlining the Baltic Summer Festival.
About KLPR Group
KLPR Group, LLC is a New York – based boutique public relations, marketing and communications consulting firm catering to a broad based clientele in the worlds of entertainment, lifestyle, fashion and music.
Source :
KLPR Group, LLC

Business Info :
KLPR Group
244 Fifth Avenue Suite 213 New York, New York 10001
New York City, New York - 10001 United States
Phone: 917 627 5447
Website:
http://klprgroup.com