International Pop Star Jahna Sebastian Collaborates with LV MAG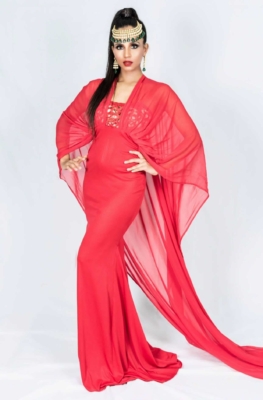 Press Release (ePRNews.com) - NEW YORK - May 09, 2017 - International pop star Jahna Sebastian is well known for her artistry, her experiences as a refugee, her fight to obtain British citizenship and her humanitarian efforts as well as creating a new philosophy and movement to understand the world in today's history. She has now turned her creative efforts into collaborating with Serena Hussain of LV MAG.  Ms. Sebastian stated when asked about the collaboration. 'It's conversations to raise questions on many issues in society, music industry and much more which will be released as a series of talks'. They already filmed a few episodes, the first which was recently releases is titled 'How to Be the Original in a World of Photocopies' discussing identity, staying true to yourself and forging your own path. The series are meant to help and inspire people all around the world with relevant topics and an insightful outlook to create dialogue and push culture forward. LV MAG features conversations to better understand the status quo.  The content created and produced on LV MAG reflects a more poignant and reflective perspective on life and human relations.
Ms. Sebastian also recently collaborated with photographer Dinesh Joshi and designer Afua Sam of STUDIO D'MAXSI on a special photo shoot 'The Fashion Adventure London'.  In the shoot Dinash captured her in four breath taking looks. An exquisite red gown with a cape and head piece, a sheer white cocktail dress, a knee length african print dress and fun two piece white and black ensemble. Her glam squad consisted of Team International: MUA: Rita Soni; Soni Makeovers, Hair Stylist: Chetna Kava, Assistant Hair stylist: Manraj Tawana, Jewelry: Aluma Vadgama and Styling Team: Candice Osbourne and Kukua Yeboah.
Ms. Sebastian is currently in the studio working on new music for her upcoming project. Look out for her highly anticipated album which will be available soon and includes her recently released records 'Aftermath' and 'Fearless'.  Both records were written, recorded and produced by Ms. Sebastian at her studio in London, Multivizion Music. She is also working with talented Russian artist Ainur Timergaliev, whom she is working on a series of art projects including a special art exhibition. He drew the cover art for her 'Aftermath' record as well as the cover art for the album. The art exhibition will feature their collaborative efforts in music and art.
Episode 1
'How to Be the Original in the World of Photocopies'
https://lifevocabulary.tumblr.com/post/160041690684/seren…
'Conversation on Creativity' Serena Hussain & Jahna Sebastian on LV MAG
Music, Art
https://lifevocabulary.tumblr.com/post/160312489369/infor…
Jahna Sebastian Website:
http://jahnasebastian.com/music
To keep up with Jahna Sebastian check out her social networks below:
Twitter: @JahnaSebastian
Instagram: @JahnaSebastian
For interviews and press inquiries please contact Kathy Liautaud at kathy@klprgroup.com
About Jahna Sebastian
Jahna Sebastian who was classically trained on piano and earned her degree in "Music Business" at the age of 20 at the prestigious Russian Academy of Music  is a multifaceted power house of talent. With her sultry vocals, captivating lyrics, hypnotic beats and exotic beauty she is a force to be reckon with. Not only is she an amazing singer and songwriter, she is an accomplished producer and engineer as well as the owner of a recording studio, Multivizion Music which since its inception has become the nucleus of Russian rap and grime scene in London. She has engineered and produced for many artist including the Russian rapper Oxxxymiron who was named Discovery of the Year at the Russian GQ awards.
About LV Mag
Serena Hussain  (Editor/Creator of this new online Magazine).
LV began with lifestyle content.  As a music, yoga and social content enthusiast – I wanted to expand on what I posted regularly on my socials.  Unwittingly though, content here on #LVMAG has become more and more music focused, with the LV following consisting of users interested in the music angles of the stories, reviews, interviews, and conversations.
THE FASHION ADVENTURE
Fashion Adventure was created by Afua Sam of STUDII D'MAXSI since 2011, with the idea of bringing creative people like Photographers Models, MUA, Hair, Stylist, designers, and Accessary designers, Magazines, Bloggers together from different counties to bring diversity, promote and create opportunities for their creative work. Since then, Afua has worked with people from the USA, London, Japan, France, Ghana, Argentina, Kenya, and more, and been published  in various International magazines and blogs
ABOUT AFUA SAM
AFUA SAM of STUDIO D'MAXSI
STUDIO D'MAXSI is a fashion design house owned by Afua Sam; multiple awards Winner, Celebrated as an innovative, sophisticated and edgy women's wear line for the modern women.
STUDIO D'MAXSI makes unique designs for the sexy, classy, funky, chic and confident women. STUDIO D'MAXSI has featured in various fashion shows including New York Fashion Week, Divas of Colour London, Maryland Fashion Week, DC Fashion Week, Crystal Couture and more. Charitable fashion events like  Fashion For PAWS, Steps to the Cure, Pink For Africa, Rise Against cancer ,The Steve Smith Family Foundation, America Breast Cancer Foundation, Tiger Lilly Foundation, Fashion Fusion, Fashion for World Peace, Pink Jams, Beyond Words Fashion Show For The 'Lollipop Kids Foundation Etc.
Source :
KLPR Group

Business Info :
KLPR Group
244 Fifth Avenue Suite 213 New York, New York 10001
New York City, New York - 10001 United States
Phone: 917 627 5447
Website:
http://klprgroup.com