CINEPLAY Green-lights The Fever for Season 3
Asian American Actress/Producer, Sondra Anderson set to return to The Fever for Season 3 with production to start in late fall.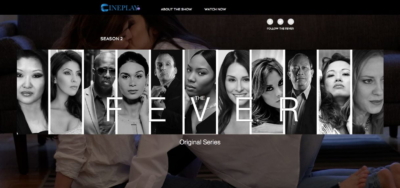 Press Release (ePRNews.com) - NEW YORK - Jul 25, 2017 - With release for the final episodes of season 2 of The Fever now underway, CINEPLAY has green-lit production of season 3.  Production is scheduled to begin in late fall. Series lead, Sondra Anderson has been confirmed to return to the show as the main character, Amber Choe, as have all of the other main season 2 co-stars.
Sondra is also attached as one of the shows Executive Producers with husband, Lorenzo Anderson as the showrunner.  Season 3 will have a much higher production budget and an even more provocative theme. It is scheduled to begin streaming in early 2018 with at least ten 45min+ episodes being produced.
The new season will be filmed in New York City with 4K UHD streaming options available to subscribers on CINEPLAY.  It will also include subtitles in Spanish to cater to the shows large latin following.
About The Fever
The Fever is a provocative drama series set in New York City that glamorizes the world of high-end matchmaking.
Amber Choe, is the owner of Creme De La Creme, a high-end matchmaking service. She is also a sexpert and writter of the best selling book, "Queen of Passion"  All of the charactwers in the show are somehow connected by Creme De La Cremes intrique matchmaking sytem called, The Fever.
The Fever is led by, Sondra Anderson ( The A-Style, Poyzen Productions, Platinum Dreams) as the main charcter, Amber Choe, Brenda Pond ( Toy Soilders ,Wolf Mother ) as Veronica Santos, an FBI agent and Amber's lover of 5 years, Lorenzo Anderson ( Platinum Dreams, Lead Me Not Into Temptation,The A-Style ) as private investigator, Derek Carter and business partner with Amber Choe, and Alana Ramos ( Platinum Dreams)  as Derek's sugarbaby wife, Cathy Carter.  For more cast info. and press materials visit http://cineplaytv.com/thefever
Executive Produced and co-created by Sondra Anderson and Lorenzo Anderson, The Fever is the first original series created for the internet TV network, CINEPLAY and is being produced by Poyzen Productions
About CINEPLAY
Cineplay is a SVOD platform very similar to Netflix but with content exclusively produced by indie film and TV creators from around the world. Launched in late 2015, and now owned by CINEPLAY, LLC.,  the network received over 5,000 submissions and selected 2,000 titles for streaming. In September 2016, Cineplay began production of original content and now has over 10 new projects slated for production in 2018 including several more orignal series and two feature films. CINEPLAY streams at http://cineplaytv.com and is available worldwide for most titles.
Contact:
Media Relations – 646-801-7763
info@cineplaytv.com
Source :
Cineplay, LLC