Sylvia Sanchez shows that a mother's love is "The Greatest Love"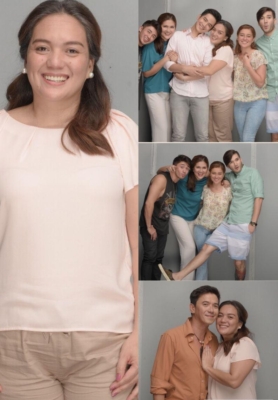 Press Release (ePRNews.com) - QUEZON CITY, Philippines - Sep 14, 2016 - The selfless and incomparable love of a mother is the theme of the newest ABS-CBN drama series "The Greatest Love," which features Sylvia Sanchez in her first starring role.
"This is the most unique character that I've portrayed," said Sanchez about her character Gloria in the series. "This is a story of a mother who has sacrificed everything for her children, neglecting herself along the way."
"The Greatest Love" tells the story of Gloria, a 59-year-old mother who is willing to do and sacrifice anything for the welfare of her four children – Amanda(Dimples Romana), Andrei (Matt Evans), Paeng (Arron Villaflor), andLizelle (Andi Eigenmann).
Despite the fact that she is away from her children, except Lizelle who is living with her, Gloria's only wish is to have a peaceful life and a happy family.
However, the only person who is keeping the family together, Gloria, is about to reveal a secret she has been hiding for the longest time:she is diagnosed with Alzheimer's disease.
As her memories fall apart due to her illness, will her family suffer the same fate or will she and her grandson Z (Joshua Garcia) find a way to hold the family together until the very end?
According to the program's creative manager, the renowned and award-winning writer Ricky Lee, the story of "The Greatest Love" is about second chances. "We are all given second chances by life. This is a journey of a mother's second chance at motherhood, as well as her second chance at her great love, even at her age," he explained.
Also starring in "The Greatest Love" are Nonie Buencamino, Rommel Padilla, Tonton Gutierrez, Ejay Falcon, Ellen Adarna, Junjun Quintana, Aleck Bovick, Luis Alandy, Bobby Andrews, Alex Medina, Mercedes Cabral, and Guji Lorenzana. Under the supervision of directors Jeffrey Jeturian, Mervyn Brondial and Dado Lomibao.
"The Greatest Love" has received warm reception from the viewers, getting 15.7% ratings for its pilot episode on September 5, according to local TV rating monitoring company Kantar Media. On TFC.tv, it is one of the top 10 most viewed programs on TFC.tv as of this writing.
Watch ABS-CBN's newest offering, "The Greatest Love," and see what a mother can defy all for the love of her family. Watch it via TFC, TFC.tv and TFC IPTV. You can also catch past episodes via TFC.tv and TFC IPTV.
For more program updates, and to connect with fellow global Kapamilyas, visit TFC's FB page applicable for your area or follow @KapamilyaTFC on IG and Twitter.
Source :
ABS-CBN Global Ltd.