Aesthetic landscape lighting at Villa located in posh land of Arabian Ranches, Dubai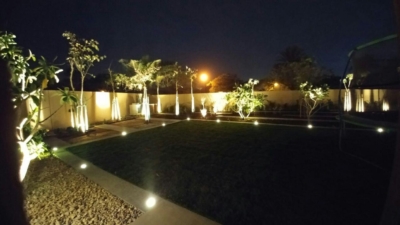 Press Release (ePRNews.com) - AL QUOZ, UAE - May 02, 2017 - Generous lighting in a dusky outdoor environment creates an awestruck appearance providing a warm, convivial atmosphere. Many villa owners know the significance of spending time in the open air at evening or night be it for a party, family get-together, some games, or a barbeque dining experience. Garden lighting allows for many functionalities be it safety from burglars or animals, functionality to walk around effortlessly, highlighting the exotic plants /trees in the land or even lighting the areas surrounding pool, fountains and sculptures. Landscape lights also serve a number of needs, from letting you walk safely down a path at night, to giving you a place to spend time with your family after school and work. Yet for homeowners, choosing which areas to light can be a challenge.
Today's homeowners visualize their sites as a spring of pride, a haven for recreation, and an abode to delight in good times with family and friends. We, LWS Lighting solutions, Project Department of LED WORLD provide design and supplies of outdoor luminaries for adding life to spaces after the sun goes down, creating an unparalleled artistic effect while adding security and usability. Being experienced landscaping lighting professionals, we offer one stop services for all your exterior yard illumination requirements. We proudly showcase you one of our landscape lighting projects executed at Villa located in Arabian Ranches Dubai. When we were approached by the client to provide lighting solutions, our Project supervisor Suhail K visited the site and based on drawings and recommendation we installed spike lights to brighten up bushes and trees, bollard lights were fixed along the pathways, recessed in-ground lights were bordered on the edges of lawns. The swimming pool corners had trails lights fixed, with up and down lights installed on the pole of the pergola in the garden. Linear lumiprofile were raised up against the wall for immense brightness. The end result was a spectacularly lit up exterior area as showcased in the image gallery.
Chief Executive Althaf Ali comments "Exterior lighting is imperative equally as the indoor lighting. It should be appropriately well-designed, to provide a recreational atmosphere, and in the same time safety and leisure. The lighting have big impact too the whole appearance of your plot and courtyard, and that's why it is essential to pay thoughtfulness what kind of lighting you will use to light up your yard and where will you set the lights. Nowadays, there are so many efficient lighting concepts, you just need to find the accurate one that will be apposite to your exterior."
Clarifying further, Shanil Basheer, Project Manager and Valentin Boyanov, General Manager opined that Landscape lighting illuminates the trees, shrubs and flowerbeds with path lights sprinkled throughout the garden. Floodlights and spotlights are best for trees and larger areas of your yard. Most landscape lights are available in low-voltage, LED; they also come in kits with everything you need to light your outdoor space. They're available in a variety of finishes and glass types, so you can select a style that is right for your patio. Landscape lighting adds another layer of depth to any landscape design and will really help to bring exuberance at night. Low-voltage lighting solutions can be added to outdoor walkways, trees, patios, decks and more. For a free estimate on how we can help to add beauty and enjoyment to your home, visit us on www.ledworldme.com
Alvina Clara, PR Executive, LED World LLC.
Source :
LED WORLD LLC