Body Sense Massage School-Enroll for the Massage Courses in June to be a Professional Expert
Get ready to enroll for the unique courses to be held in Brisbane in the month of June.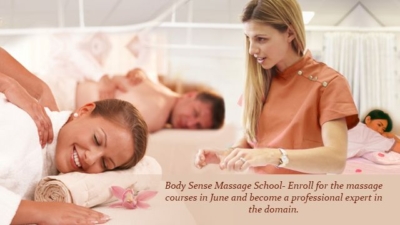 Press Release (ePRNews.com) - BRISBANE, Australia - May 22, 2017 - The Body Sense Massage School is the only institution that focuses on the students' career and helps them to achieve their goal in the near future. It has launched the 2-days courses in Brisbane in June so that the candidates can enroll themselves in the training program. This program to be held in June in Brisbane, includes Whole Body Massage Certificate, Trigger Point Therapy, Diploma of Whole Body Massage, and Advanced Treatment Massages for a headache and sinus.
The schedule program of the course in Brisbane
Course 1- Whole Body Massage Certificate will be held on 3rd & 4th June
Course 2- Trigger Point Therapy course classes will be commenced on 4th & 5th June
Course 3- Diploma Whole Body Massage 'Kaveh style' will take place on 3rd, 4th & 5th June
Course 4- Advanced Treatment Massage for headaches and migraine will be held on 3rd June
The school hires trained practitioners who can provide educational as well as the practical session that will completely transform the students from a novice to a professional therapist. With the training session, the candidates will gain immense knowledge and confidence in curing the patients from various illnesses. As massage has grown out to be one of the popular remedies for treating the disease, millions are coming to learn the holistic approach so the patients can get rid of the bodily issues permanently.
About the school– Body Sense Massage School is an Australian massage training institution that has introduced different massage techniques that can help the aspiring students to achieve their goal. The massage is taught by the trained professionals who have in-depth knowledge and experience in the relative domain and can deliver the technique to the students. The candidates who are trying to establish their careers in this industry, can take the admission to the courses in the school and achieve success right after the course gets completed. The 2 days course will significantly boost your knowledge and gives you hands-on practice such that it becomes easy for the students to survive in the outer world. The school has established itself all over the Australia and is compelling the candidates to take up the classes if they are willing to shine in this industry.
CONTACT INFORMATION
Address- 54, 111 EagleStreet, Brisbane, QLD 4000
Email- info@bodysensemassageschool.com.au
Contact- 0450 010 656 / 1300 91 08 21
Website- http://www.bodysensemassageschool.com.au/
Source :
Body Sense Massage School