Body Sense Massage School-Enroll to get the special discount in the occasion of the Persian New Year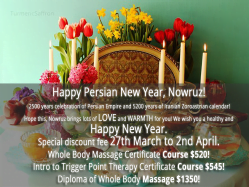 Press Release (ePRNews.com) - TOORAK, Australia - Mar 22, 2017 - The Body Sense Massage School has brought down a great offer to the students in this Persian New Year, Nowruz. The celebration of the Persian Empire and the Iranian Zoroastrian calendar has led the school to cut down the prices to low for the Whole Body Massage Certificate Course, Trigger Point Therapy Certificate Course, and a Diploma of Whole Body Massage.
Special discounted prices are bestowed to three courses. This offer starts from 20th of March to 27th of March on the honor to celebrate the love and warmth of the Nowruz. The course fee is $520 for Whole Body Massage, $545 for Trigger Point Therapy, and $1350 for the Diploma in Whole Body Massage respectively.
As massage is one of the ancient technique, thus the school wants the aspirants to learn this technique in a few days. With this event, the students get the chance to enroll for the course and learn them at a discounted price. The massage courses have their specialized benefits and it will further help the students to move a step ahead towards their career.
By learning this massage course the candidates get the opportunity to learn innovative techniques that are modernized with the recent styles. The old age therapies are now mostly favored in various industrial and medical sectors to cure different diseases, joint pain, swelling of muscles, injuries, constipation, and more.
About the school – The Body Sense Massage School is an Australian-based massage institution focusing on teaching the students about the ancient techniques so that people can opt for the holistic approach instead of medicines and drugs. As massage has a great advantage to the body, the school tries to embed this talent and skills to the students so that they can further help the patients to get relief from the pain and other physical discomforts. Whether it's a joint pain or a sports injury, massage can help you to get rid of them permanently.
The Whole Body Massage Course, Trigger Point Therapy, Advanced Treatment, Kaveh Style Massage Technique, and more are taught under the strict rule and stern guidance of the professional therapist. Though the courses are held in short duration, they are very effective in nature. The rigorous training will help the students to brush up their hidden skills and come out as a professional therapist after the course completion.
Contact Information:
Body Sense Massage School
Level 1/459, Toorak Rd, Toorak, Vic 3142
P.O. Box 2021 Oak Park, Vic 3046.
Phone : 0450 010 656
Phone : 1300 91 08 21
Email : info@bodysensemassageschool.com.au
Website: http://www.bodysensemassageschool.com.au/
Source :
Body Sense Massage School