Book a cleaner online, on-demand with WHIZZ's latest Android app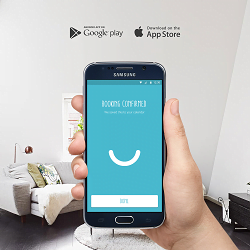 Press Release (ePRNews.com) - Jan 26, 2016 - After months of development WHIZZ is proud to announce we are now on Android!
We promised that making a booking for a WHIZZ clean would be easy and convenient — with just a few clicks on your mouse or phone, you're done! The Android app is the latest piece in the WHIZZ story.
WHIZZ Android App design
"The features and design of our WHIZZ Android App are on par with our iPhone app, awarded gold in 2015 App Design Awards for Best App Startup. With the WHIZZ Android App now in the Play Store, many more Australians can use their smartphones to enjoy the WHIZZ experience!" says Neil Grusd, Chief Tech @ WHIZZ.
Like our award-winning iPhone app, you will enjoy a user-friendly and clean interface that lets you specify the cleaning services you require, select your date and time and then a quick and easy payment. Keyur Thakkar, who leads the Android development says that an "Android flavour" was added to the iPhone version, and the least used features removed so as to simplify the booking process and provide customers a seamless experience.
"The WHIZZ design team revisited the business requirements to create a streamline UI with the single goal of making a WHIZZ booking even more intuitive to our new Android users. It had to be short and simple," says Keyur.
After 3 months of design, development and testing, the WHIZZ Android App was quietly released internally to identify and address potential technical issues before going ahead with a public release on Australia Day 2016. "Going ahead, having both Android and iPhone Apps enables WHIZZ to now rapidly extend our offering across AU's mobile marketplace for on demand home services." says Grusd.
Commitment to quality and convenience
The Android app development and design reflects Whizz's commitment to details and constant endeavour to get things right. WHIZZ has combined the convenience of technology with a one-to-one personal touch.
"Some key updates were introduced to the WHIZZ platform start of this year which allows our customers to better communicate their personal needs to their WHIZZ cleaner. You can now customise your clean accordingly," says Mark Bernberg, WHIZZ CEO. "We are driven by your experience as the customer. Everything from START TO FINISH– is clean, simple and delivers on our WHIZZ brand promise – A HAPPY HOME."
To download the WHIZZ Android app, go to:
https://play.google.com/store/apps/details?id=au.com.whizz
Source :
Whizz Technologies

Business Info :
Whizz Technologies
159 Victoria St, Potts Point
Sydney, New South Wales - 1102 Australia
Phone: +61 1300 029 290
Website:
http://whizz.com.au