Frontline Utilities LTD Releases "Frontline Registry Cleaner 2.0" Free
Frontline Registry Cleaner 2.0 has been released free & open source by the parent company Frontline Utilities LTD. As part of a wider strategy to introduce the new "FLCleaner 3.0" application, FL has released Frontline Registry Cleaner 2.0.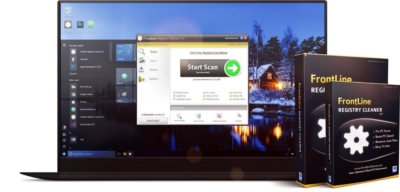 Press Release (ePRNews.com) - BROMBOROUGH, England - May 25, 2017 - Frontline Registry Cleaner 2.0 was a very popular product in 2011, released as a follow-up to the 1.0 version of the same. Downloaded over 5000 times, it was used by personal and business users to clean out any "registry" errors and junk files on their Windows 7, 8 and 10 systems. The product was an outstanding success, being stocked in a number of British electronics retailers amongst other outlets. Now, Frontline have re-released the product as an open-source project.
The problem for Frontline was that registry cleaner tools have been in decline since their heyday in 2011. The reason for this is that smartphones, particularly Android, have come to replace standard PC's for many users. Functionality such as full Internet browsing, email access and even 3D graphics have allowed tablet / smartphone users to indulge in content & perform simple tasks which have rendered expensive PC's irrelevant. However, there are two sides to every story.
Frontline retrenched in 2011 – focusing on web based software rather than desktop application development. This lasted for 6 years, with the company emerging in early 2017 with a new framework and technology set required to create the new wave of applications. Specifically, the company mentioned that a new breed of "integrated" application will likely emerge, with people choosing to use services across all devices. This process will be accelerated with Windows 10's foray into the world of mobile.
Frontline Registry Cleaner still works on Windows 7, 8 and 10. It's a fully functional registry cleaner application, designed with a unique engine that makes it much faster and more effecient than any other system. The quality of this engine, matched with its deep scanning ability, made Frontline Registry Cleaner 2.0 more powerful than any other registry repair tool on the market, beating even CCleaner in tests. Now, this tool is available for free:
A release statement has been released by Frontline Utilities LTD here:
https://medium.com/@frontlineutils/frontline-registry-cle…
Frontline Registry Cleaner 2.0 is able to scan for the following errors on your system:
• COM/ActiveX
• Uninstall Entries
• Font Entries
• Shared DLLs
• Application Paths
• Help Files Information
• Windows Startup Items
• File/Path References
• Program Shortcuts
• Empty Registry Keys
• Shell Extensions
• Custom scans
• Automatic scanning with the scheduling tool
• Selection and removal
• Ignore list
• Automatic repair
• Backup and restore
• Startup management
Each of these services allow you to pinpoint specific problems that your system may have, cleaning out any of the issues they may be causing.
To do this, you can download the installer directly from the Frontline Registry Cleaner 2.0 website, and use it to clean out any of the potential issues that your system may have. The system is very simple – you just need to select any of the error types you want to clean out, and then click the "Start Scan" button. This will start the scanning process, resulting in the software being able to get you to clean out any of the problems it may have.
You can download Frontline Registry Cleaner 2.0 (Free Edition) from the following URL:
https://www.flcleaner.com/2.0
Source :
Frontline Utilities LTD