NetGain Systems Offers Perpetually: Free Protection From Unplanned Downtime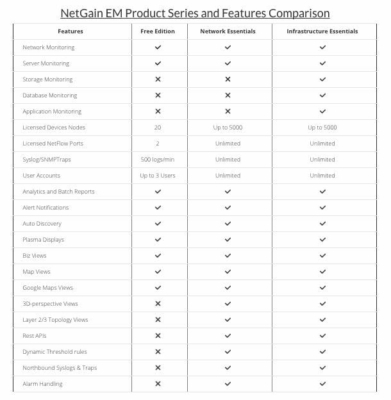 Press Release (ePRNews.com) - ANG MO KIO, Singapore - Nov 04, 2016 - • *Free Version of NetGain Enterprise Manager*
• *Free to download, install and use*
• *Full monitoring of up to 20 devices (unlimited elements per device)*
• *Simple download*
• *Installs within minutes*
• *Start monitoring your most essential IT devices for free, no time limits*
Singapore-headquartered NetGain Systems has released a free version of its popular and robust network monitoring solution,framed in the larger context of a corporate social responsibility (CSR) initiative designed to help local small and medium enterprises (SMEs) survive and thrive in a challenging and uncertain global economy.
A technology that automatically monitors computer networks for slow or failing components, and generates notifications and alarms in case of outages, the new software is called NetGain EM (Free Edition),and is free to download and use for all time, subject to a limit of 20 devices,with unlimited elements per device.
An Invaluable Tool For Managing Business Risk
Mr. Toh Soon Seah, Founder and CEO of NetGain Systems, explained that the launch of NetGain EM (Free Edition)isrooted in a desire to help local SMEs protect their bottom lines and prevent job losses.
"For an economy to grow, every business, not just MNCs, needs to do more than just survive," said Mr. Toh."And according to Spring Singapore, 99% of the enterprises in Singapore are made up of local SMEs. These 180,000 businesses make up and contribute to nearly half of our GDP, while employing 70% of the workforce."
Hence it is SMEs that are feeling the brunt of the global downturn, said Mr. Toh, and Singaporeans who stand to lose the most.With many small and medium companies turning to belt-tightening to tide themselves over this difficult period,headcount reductions may become inevitable. Cost controls and risk management then become paramount.
"In today's connected world, a majority of these SMEs depend on IT to keep their businesses running and maximise productivity, and as such, any downtime could prove costly to them,"said Mr. Toh."However, one of the challenges faced by many SMEs is that most lack the budget or may not have an IT department to prevent unplanned IT downtime."
Yet, not having a network monitoring solution to manage IT infrastructure failure is akin to taking chances with their bottom lines and with it, their chances of survival.Studies show that SMEs can lose up to SGD6,000 for each hour of downtime, putting businesses, careers and families all on the line.
Said Mr. Toh, "NetGain understands the challenges faced by SMEs. Hence we are offering them a free monitoring solution that can monitor up to 20 of their most essential IT and network devices."
This, said Mr. Toh, would contribute towards the continued profitability and viability of SMEs and help keep Singaporeans' jobs safe.
A Timely Smart Nation Initiative
The launch of NetGain EM (Free Edition) is also in line with Singapore's vision to become a Smart Nationwhere people are empowered by technology to lead meaningful and fulfilled lives,said Mr. Toh.
"Building a business is never easy. The hard-won progress you have made shouldn't be put at risk just because a hard disk failure or customer database outage catches you by surprise," said Mr. Toh. "Network monitoring is a technology that can alert you to these and other potentially damagings cenarios before they have a chance to develop into full-blown business crises."
In the process, SME owners will discover the importance of network monitoring in managing critical IT infrastructure, creating nation-wide awareness of how smart technology can ensure business continuity and protect businesses, brands and customers.
Free And Easy
NetGain Systems' new freeware is markedly different from network monitoring freeware created by other overseas software developers, added Mr. Aaron Koh, Sales & Channels Director (Regional) for NetGain Systems.
He explained, "Unlike other software developers who restrict their free monitoring solution to a certain number of elements, or a limited time period, NetGain EM (Free Edition)lets users monitor unlimited elements within a device, of up to 20 devices – forever."
Safeguard Your Business Today
"It is my hope that the launch of NetGain EM (Free Edition) will help all businesses of all sizes not just survive, but thrive during these trying times," said Mr. Toh in closing.
"Hence, I would like to take this opportunity to encourage local SMEs to download and install NetGain EM (Free Edition)today to discover the value of network monitoring. Protect your business from costly downtime – it is free and it works."
"Lastly, we are all in this together. So, if we have helped you, please help to spread the word about free network monitoring to your fellow entrepreneurs and business owners as well."concluded Mr. Toh.
To download NetGain EM (Free Edition), simply visit the download page at netgain-systems.com/free-edition/ ,then enter your email in the form to begin downloading the installer and activation key.
After starting the installer, follow the instructions provided by the installation wizard. Then enter the activation key to start monitoring the devices on your network immediately.
For more information about NetGain EM (Free Edition), send an emailto aaron@netgain-systems.com.
The feature set you get with NetGain EM (Free Edition), added Mr. Koh, is also comparable to the least expensive paid version of NetGain Enterprise Manager, sharing around 70% of its features, and has about 50% of the features that come with the highest-tiered NetGain Enterprise Manager Infrastructure Essentials.
What's more, installing the software and adding devices for monitoring is also simple, with the help of NetGain Systems' instruction videos which are clear and easy to follow.
Contact:
Aaron Koh
Sales & Channels Director (Regional)
Tel:+65 9489 4557
Email:aaron@netgain-systems.com
www.netgain-systems.com
Source :
netgain systems