British Armed Forces, Joint Helicopter Command and UK MoD join Future Helicopter Technology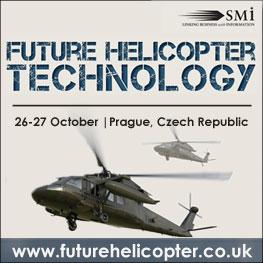 Press Release (ePRNews.com) - LONDON - Jul 20, 2016 - The British Armed Forces, Joint Helicopter Command and UK MoD are world leaders in managing and deploying military helicopters for complex operations. For this reason, SMi is delighted to announce that its conference on Future Helicopter Technology, will include comprehensive representation from these leading military organisations, through an array of expert guest speakers, presentations and panel discussions.
The event, taking place in Prague, Czech Republic on the 26th and 27th October, will have a specific focus on Maintenance Repair and Overhaul (MRO), a cornerstone of every defence forces ability to maintain air readiness and operational effectiveness.
This, the 3rd event in SMi's series of leading helicopter conferences, will attract the most senior military and industry experts from across the world, to discuss the innovative technologies available for optimising helicopter operations.
The number of UK led presentations at this 2-day event will share valuable insight into their nation's strategy, MRO and operational practises. Key presentations from these leading organisations include: 'Optimising Through Life Support and Maintenance of UK Joint Helicopter Command Deployable Helicopters' delivered by Commander Nick Sargent, Operations Support Air Manoeuvre Support Helicopter Manager and Major Hayden Price, Operations Support Availability and Utility Manager, both from the Joint Helicopter Command. 'Assessing How Military Helicopters Will Remain At The Forefront of Supporting Combat Operations Across Existing and Future Conflicts' by Colonel (Retd) Paul Edwards, Former Chief of Staff, Army Aviation from the British Army and 'Creating an effective Through Life Support Model for New Technology Acquisitions' presented by Leyton Lark, Through Life Support Expert Advisor to the UK MoD and Director of Lark Consulting.
Attendees will also get the chance to book a half-day pre-conference workshop on: 'Optimising Military Helicopter Through Life Support Requirements', hosted by Leyton Lark.
They will be joining Heads of Air Forces, rotary MRO, training, operations and leading industry experts from the: Czech Armed Forces, Czech MoD, Royal Danish Air Force, Czech Air Force, Belgium Air Force, NATO (NAHEMA), NSPA – NATO, Polish Armed Forces, Slovenian Air Force, OCCAR and many more.
For further information on this conference or the workshop, visit the website at: https://www.smi-online.co.uk/defence/europe/Future-Helico…
For sponsorship or registration enquiries, contact Sadia Malick on +44 (0) 207 827 6748 or smalick@smi-online.co.uk
For media enquiries, contact Shannon Cargan on +44 20 7827 6138 or scargan@smi-online.co.uk
Future Helicopter Technology
26th – 27th October 2016
Hotel Don Giovanni Prague, Czech Republic
https://www.smi-online.co.uk/defence/europe/Future-Helicopter-Technology
#smihelicopters
—- END —-
About SMi Group: Established since 1993, the SMi Group is a global event-production company that specializes in Business-to-Business Conferences, Workshops, Masterclasses and online Communities. We create and deliver events in the Defence, Security, Energy, Utilities, Finance and Pharmaceutical industries. We pride ourselves on having access to the world's most forward thinking opinion leaders and visionaries, allowing us to bring our communities together to Learn, Engage, Share and Network. More information can be found at http://www.smi-online.co.uk
Source :
SMi Group