Women Veterans – Out of the Shadows Celebrating the First Official Women Veterans Day on June 12
Educating, validating and commemorating women in the military.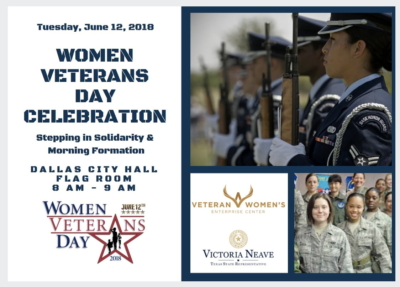 Press Release (ePRNews.com) - Dallas, Texas - Jun 10, 2018 - The celebration begins early morning on June 12, 2018 as State Representative Victoria Neave and the Veteran Women's Enterprise Center partner with the City of Dallas and Dallas County to host "Stepping in Solidarity: Morning Formation" at the Dallas City Hall Flag Room from 8:00 a.m. to 9:00 a.m., recognizing all women veterans and providing special recognition to the women veteran from the WWII, Korea and Vietnam eras—doors opens at 7:30 am and seating is limited. 
We know that women have served in the military since the Revolutionary War, but their true history and contributions are seldom known or told. A 2017, road trip to Austin to promote the Veteran Women's Enterprise Center (VWEC) turned into an educational opportunity, as the staff from Representative Neave's announced their Bill for June 12, to be designated as Women Veterans Day. As many have and certainly we did question—why June 12, we learned for the first time about the Women Armed Services Integration Act signed on June 12, 1948, by President Harry Truman, which allowed women to serve as regular members of the Armed Forces. This information was not a part of the military's education during boot camp, but women serving in the military should be educated about their struggles to serve and the great contributions they have and are continuing to make to the military. It's history, we cannot change it, so when asked to testify on behalf of the Bill, we quickly planned another road trip from Dallas to Austin and well the rest is history.
Stepping in Solidarity is more than just another event, it's a part of a growing movement to bring women veterans out of the shadows and into the light. The event is built around the theme to educate, validate and commemorate the history and contributions of women who have served and continue to serve in our military. The fact that the event is co-hosted by State Representative Neave's, the author of the original Women Veterans Day Bill and the Veteran Women's Enterprise Center a national initiative launched in southern Dallas to support women veterans as well as the City and County of Dallas only demonstrates the momentum of this movement to truly acknowledge women veteran.
To truly understand the history of women veterans, we must note that the Women Armed Services Integration Act was just the beginning of the movement to open the doors of the military to women. Just the beginning, because the Act limited access to advancement opportunities and created a 2 percent gender cap on enlistment, which wasn't lifted until 1967, followed by a series of laws enacted through the 70s & 80s that pushed the doors of opportunities opened a little wider for women in the military, and for the first time granted women "veteran" status. The fact, that the status of women veterans has continually changed over time, may support why so many women who have served are often confused about their veteran status and consistently don't self-identify or disclose their veteran status.
The progressive changes in laws supporting women veterans has led to a steady increase in the number of women who have and are serving in our military. Today women are projected as nearly 20 percent of all new recruits, resulting in them representing 15 percent of our active duty military and 18 percent of the total guard and reserve. Our veteran population also reflects this increase, as women now make up just over 10 percent and are projected to increase to nearly 20 percent over the next 20 years—requiring a reassessment of services to truly meet the unique and varying needs of women veterans.
Women Veterans Day is not a day of separation from our brothers in arms, it's a day of recognition that we are truly their sisters in service, who have demonstrated our willingness, abilities and readiness to stand side by side in every situation as an equal member of the armed forces. Women don't want to be singled out as a woman, but not wanting to be singled out doesn't change a long proud history of service with unique struggles. Women Veterans Day celebrates the unique experiences of the past and present service of women in the military. On June 12, women stand in solidarity as sister in arms to remember and honor their history, with an invitation to all to stand with them in unity and pride of service to the United States of America.
To learn how you and/or your organizations can plan your own activity to educate, validate and/or commemorate the history and contributions of military women in your organization or to simply support planned events visit veteranwomensec.org for more information and event registration.
Source :
veteranwomensec.org