Vietnam War Veterans from Across the Country Will Gather for "Welcome Home" Celebration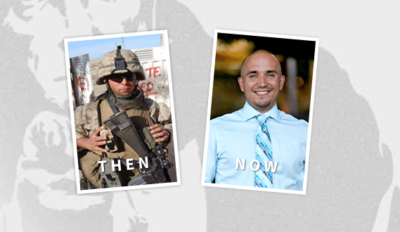 On Sunday, November 10th, 2019, veterans from across Maricopa County will gather at the Avion Center in Chandler, Arizona, to honor the service and sacrifice of Vietnam War Veterans and their surviving spouses.
The "Welcome Home Vietnam Veterans Celebration" will present Vietnam War Veterans with special lapel pins provided by the Department of Defense's Vietnam War Commemoration. Surviving spouses of Vietnam War Veterans will be presented with a Certificate of Honor for their personal sacrifice and the sacrifice of their spouse.
Jimmy Vercellino – a veteran of the United States Marine Corps and Operation Iraqi Freedom – is hosting the honorary event. Vercellino says he wants Vietnam Veterans to be celebrated and given the proper hero's welcome they never received.
"Our Vietnam Veterans sacrificed so much, yet were never given the hero's welcome that they deserved," said Vercellino. "When I was in high school, I watched a documentary on how much of America never honored our veterans returning from Vietnam. We want to give them the recognition and Hero's Welcome they never got."
More Details About the Celebratory Evening
Former Army Combat Medic in Vietnam, Charles G. Byers Jr., will be delivering a keynote address during the program. Byers Jr. served in the United States Army 9th Infantry Division from 1966 to 1972. He's a recipient of the Silver Star (the country's 3rd highest military honor); the Bronze Star with Valor; and the Purple Heart.
In addition to these awards, Charles serves as Advocate Chair for Veterans Healthcare – Vietnam Veterans of America; is currently on the Veterans Benefits Committee for the National VVA; and is on the Board of Directors for the Arizona Military Museum.
A remembrance table will be available to share photos and mementos of Vietnam Veterans unable to attend, or who have passed away. Attendees are encouraged to bring photos and mementos of friends, family and loved ones to display on this table during the morning, and be taken home at the conclusion of the program. Guests may also remember their friends, comrades and loved ones by writing their names on cards that will be provided.
History of Vietnam Veterans Returning Home
When American soldiers returned home from World War II in 1945, they were greeted as heroes in the United States with parades held across the country, honoring their return. But the homecoming was very different for Vietnam Veterans.
When Vietnam Veterans returned, they found a country torn apart by debate over the Vietnam War. As a result, many Vietnam Veterans returned to a nation that did not seem to care about them, or that viewed them with distrust and anger.
Vercellino says he hopes that even if it's for an hour or two, he can help replace old memories of physical and emotion pain for Vietnam Veterans with warm hearts and smiles that are full of sincere gratitude.
"We will be rolling out the red carpet, recreating the welcome home experience that has been 60 years in the making," said Vercellino. "We plan on having patriots line the halls with welcome home signs that read, 'You are our heroes, 'Thank you for your service' and 'Welcome home!' We are also raising money for several veteran charities."
Veterans are invited to wear their uniforms, or clothing and gear that identifies them as a Vietnam Veteran. Otherwise, dress for the event is patriotic casual.
There is no cost to attend the event, but an RSVP is required. To RSVP, click here or here.
For additional information, please contact Ron Tolson at 602-560-1774, or email ron.tolson@goldwaterbank.com.
Date and Time
Sun, November 10, 2019
4:00 PM – 6:00 PM MST
Location
Avion Center
1733 E Northrop Blvd
Chandler, AZ 85286
Media Contact: Mark Macias
Email: mmm@maciaspr.com
Phone: 646-770-0541
Source :
Jimmy Vercellino