Calico Cottage offers retail ready fudge as a solution to grow sales
Calico Cottage, The Fudge People™, to show new merchandising options at IDDBA 18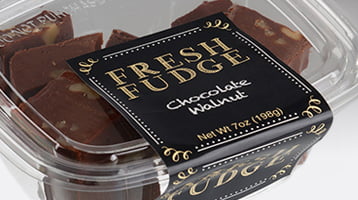 Press Release (ePRNews.com) - AMITYVILLE, N.Y. - Jun 05, 2018 - Calico Cottage, Inc., the creator and market leader of in-store fudge retailing programs, will showcase its newest pre-packaged fudge options and displays at IDDBA 18, an annual trade show hosted by the International Dairy Deli Bakery Association. This year's show will be held from June 10 through June 12, 2018 in New Orleans, LA.
Attendees of IDDBA 18 can visit Calico Cottage at Booth #3635 to learn about Fudge Packaged Your Way program options. At the booth, dairy, deli and bakery professionals can sample classic fudge varieties and other best sellers, and discover the profit potential of selling pre-packaged fudge, which is always sold under the retailer's own brand name. Calico will also showcase a variety of brand-new packaging, label and signage options, as well as various grab-and-go displays.
"Our market-ready fudge solutions are ideal for grocery retailers who may be struggling with labor, or frustrated with shrink," said Mark Wurzel, President & CEO of Calico Cottage. "Calico has seasonal in and out programs, as well as everyday programs designed to grow sales, increase margins, and keep shoppers happy."
As a completely unique retail category, grocery and convenience stores have the opportunity to showcase and sell award-winning fudge with minimal to no labor involved. Calico Cottage currently offers three Fudge Packaged Your Way programs:
· Fudge slabs – cut, packaged and labeled in store
· Fudge bites – pre-packaged and retail ready
· Fudge bars – pre-packaged and retail ready
Calico Cottage obtained the Safe Quality Food (SQF) Institute Level 2 Certification, and achieved a rating of "Excellent" from National Sanitation Foundation (NSF) International, an independent public health and safety organization. Only 1/10th of 1% of all food companies in the USA achieve this level of food safety, systems and processes. Calico Cottage is the only manufacturer of fudge ingredients that holds this globally recognized food safety certification.
About the International Dairy Deli Bakery Association (IDDBA)
IDDBA is a nonprofit trade association for food retailers, manufacturers, wholesalers, brokers, distributors, and other industry professionals. Their membership includes over 1,500 companies ranging from small independents to the world's largest corporations. The IDDBA show is a vital networking event for the dairy, deli and bakery industry, attracting over 10,000 professionals and 800 exhibitors. Among this year's distinguished speakers at the show are Michael J. Fox (actor), Aaron Rodgers (Green Bay Packers quarterback), and Daymond John (CEO & Founder, FUBU). Learn more at www.iddba.org.
About Calico Cottage, Inc.
As the nation's largest manufacturer of fudge-making equipment and ingredients, Calico Cottage has helped thousands of retailers worldwide achieve success since 1964. The fudge company's programs allow retailers to sell gourmet fudge – made fresh onsite, or received pre-packaged – branded with their store's name. For over 54 years, Calico Cottage has been the gold standard for the most delicious fudge anywhere, known for its unwavering commitment and dedication to its customers. Learn more at www.calicocottage.com.
Source :
Calico Cottage, Inc.