Calico Cottage introduces retail-ready fudge options and displays at IDDBA
The best thing since sliced fudge - pre-packaged & ready to sell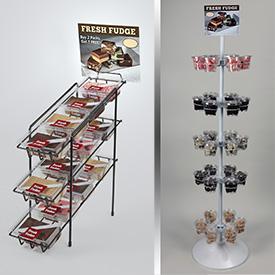 Press Release (ePRNews.com) - AMITYVILLE, N.Y. - Jun 02, 2017 - Calico Cottage, Inc., the creator and market leader of in-store fudge retailing programs, will showcase its newest pre-packaged fudge options and displays at IDDBA 17, an annual trade show hosted by the International Dairy Deli Bakery Association. This year's show will be held from June 4 through June 6, 2017 in Anaheim, CA.
Attendees of IDDBA 17 can visit Calico Cottage at Booth #1483. There, they will have the chance to sample classic fudge varieties and other best sellers, learn how profitable it can be to sell pre-packaged fudge, which is always sold under the retailer's own brand name, and assess the grab-and-go display options.
"Retailers looking to differentiate themselves love the idea of selling fudge that has their own name on it," said Mark Wurzel, President & CEO of Calico Cottage.
As a completely unique retail category, grocery and convenience stores have the opportunity to showcase and sell fudge with minimal to no labor involved. In addition to a variety of packaging options and merchandising displays, Calico Cottage currently offers three pre-packaged fudge programs: fudge slabs that are cut and packaged in store; fudge bites that are pre-packaged and retail ready; and fudge bars that are pre-packaged and retail ready.
Calico Cottage provides retailers with a way to engage on-the-go shoppers and experience creative ways of merchandising this unique retail category at groceries and convenience stores.
About the International Dairy Deli Bakery Association (IDDBA)
IDDBA is a nonprofit trade association for food retailers, manufacturers, wholesalers, brokers, distributors, and other industry professionals. Their membership includes over 1,500 companies ranging from small independents to the world's largest corporations. The IDDBA show is a vital networking event for the dairy, deli and bakery industry, attracting nearly 9,000 registrants, and including over 1,800 exhibit booths. Among this year's distinguished speakers at the show are Arnold Schwarzenegger, Jim Belushi, Giada de Laurentiis, and Earvin "Magic" Johnson. Learn more at www.iddba.org.
About Calico Cottage, Inc.
As the nation's largest manufacturer of fudge-making equipment and ingredients, Calico Cottage has helped thousands of retailers worldwide achieve success since 1964. The fudge company's programs allow retailers to sell gourmet fudge – made fresh onsite, or pre-packaged – branded with their store's name. For over 53 years, Calico Cottage has been the gold standard for the most delicious fudge anywhere, known for its unwavering commitment and dedication to its customers. Learn more at www.calicocottage.com.
Source :
Calico Cottage, Inc.