Celebrating International Women's Day @ Algoworks!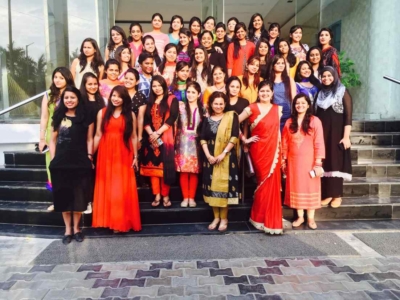 Press Release (ePRNews.com) - NOIDA, India - Mar 16, 2017 - On the occasion of International Women's Day, Algoworks celebrated this special time with joy and delight by expressing gratitude towards the women of their workplace, and made them feel special and loved. The entire day was dedicated to all the women employees of Algoworks and their valuable presence in the team was celebrated with glee.
The entire premises were adorned with balloons and flowers. Women employees were dressed up in their best attires, glorifying the workplace with their charm. They were welcomed with pretty, little greeting cards, chocolates, and roses. Special Women's Day cards were placed on their desks as well. After some time, everyone assembled in the activity area to begin the function. Mr. Ajeet Singh, co-founder, and director of Algoworks, shared a few words on women empowerment and supporting female rights. He said in his speech, "Women play a crucial role in building our Algoworks team. Their constant support and zeal to take this company forward is phenomenal, and we respect and value their position in our company, as their contribution is very much required in achieving our goals. They are not assets that also exist here. They are the assets that throttle us forward towards ambitions that we could not think of, assets that are beyond equalling the men here, assets that inspire us. I would like to thank each and every one of you for believing in us."
The speech was followed by acknowledging some influential women of Algoworks, who have been a part of the team from a long time, supporting and taking the company ahead with their hard work. They were presented with flower bouquets, and a group photo-shoot followed further. Later, a wonderful buffet was set up for everyone to relish. The delicious food and good music ended the amazing day.
About Algoworks: Algoworks operates chiefly in the United States from their California Office besides having a good hold on the European and Asian markets. Headquartered in India, the decade old B2B IT service firm has expertise in key areas of Mobility, Salesforce, Business Intelligence, and ECM including Software Product Engineering. For more information visit http://www.algoworks.com
Source :
Algoworks

Business Info :
Algoworks
Algoworks Solutions Inc. 355 W Olive Ave #204
Sunnyvale, California - 94086 United States
Phone: +1-877-284-1028
Website:
http://www.algoworks.com