CheapMeNow.com Launches To Cut Costs on B2B Purchases
A newly launched website from CheapMeNow.com was launched this month to help businesses all across the USA find the cheapest pricing from trusted brands on nearly anything they need to grow and run their company.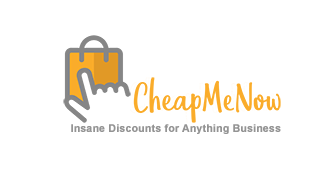 Press Release (ePRNews.com) - PHOENIX & CHESAPEAKE, Va. - Aug 07, 2017 - According to Mike Cynar, the company CEO, CheapMeNow.com serves as a convenient tool to compare prices on over 200 business products and services while avoiding aggressive salesmen and high pressure pitches. Mike Cynar said "Our mission is to help people in the business community to get the best price possible on all their business needs, period. We will deliver business owners an easy solution to compare multiple products and price quotes from trusted brands in a matter of minutes". Cynar hopes to make b2b comparison shopping more enjoyable, but says their #1 priority is to deliver value, and they measure that value by finding quality vendors with the best price points. Mike Cynar said "bottom line, people want real value per dollar invested, and we're just doing the in-depth research for them.".
Here's How CheapMeNow.com works.
It all begins with publishing real buying advice on the products and services that most companies will purchase at some point. This can range from payroll service, to office copiers, and even office cleaning services. CheapMeNow.com thoroughly investigates the cost from hundreds of trusted suppliers and then shares its findings on their website. For example, someone shopping for an economical collection agency would visit http://cheapmenow.com/debt-collection-service/ and learn that they can expect to pay debt collection companies no less than 6%, and as much as 60%, depending on the age of the debt. Alternatively, a business in need of a low cost answering service would visit http://cheapmenow.com/answering-service/ and discover the cheapest rates for a quality solution will run around $0.87 per operator minute.
Once a visitor has a good understanding of the price points they then have the option to receive free quotes from up to six vendors. Of course, the service is completely free to website visitors and no financial information is ever requested. Cynar's company makes money when they connect serious buyers with their partners and affiliates. Cynar said "This is the best business model on the planet. Our visitors benefit greatly with free buying advice brought on by countless hours of research, and our business partners, well they adore us for delivering performance based leads that actually turn into customers". It's a win-win business model and the company is forecasting at least $1 million dollars in revenue within the first 12 months of operation.
Their website, http://cheapmenow.com/ officially launched on August 7, 2017 and Cynar says he expects to fulfill over 1,000 inquiries by August 31, 2017.
Source :
Mike Cynar