Christ Church Vero Beach Complex Nears Completion – First Church Services Scheduled for Mid-June
The final phases of construction for the 27,000 sq. ft. Christ Church Vero Beach Worship Center, Education Wing and Community Center located at 667 20th St. (southwest corner of SR60 and 6th Ave.) in Vero Beach are nearing completion. The visually striking V-shaped facility is directly south of the Hampton Inn & Suites and only a block south of Vero Beach's "Miracle Mile" shopping district.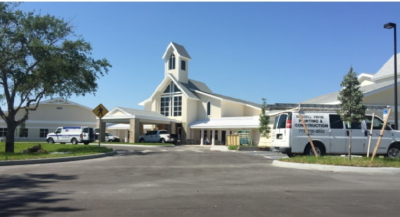 Press Release (ePRNews.com) - VERO BEACH, Fla. - May 19, 2017 - "The planned mid-June opening of the new Christ Church Vero Beach complex represents many years of prayer and planning by the members of the Church," said Bishop John Miller, Christ Church Vero Beach Rector. "Our new location and facility will give us much needed room to grow and help us to fulfill our mission of being the best Church we can be for Vero Beach," he continued.
View Video of Bishop John Miller at the new Christ Church Vero Beach complex.
According to Bishop Miller, "We designed our new facility with glass walls in front to allow us to be as transparent as possible to the people in the Vero Beach community. Thoughtful use of spaces both inside and outside of the Church will allow us to better enrich the lives of our members and groups using our complex."
Designed by the architectural firm of Reardin & Carroll, the Church's Worship Center interior features massive supporting wood laminate arching pillars, a large stained glass window above the altar designed by Pickel Studios of Vero Beach and congregation seating for up to 400. The Proctor Construction Company of Vero Beach has been the general contractor for the Christ Church complex.
On the north side of the Church are located the 9.23 Community Center and a dedicated Teen Center. The 9.23 Community Center annually hosts over 500 community events by organizations such as Scouts and the Coast Guard Auxiliary. The Teen Center, with both indoor and outdoor Wi-Fi-equipped recreation areas, will provide a safe after-school gathering place for teens.
The Church's Education Wing on the south side, in addition to the regular children's Sunday School, provides a weekday mom's morning out program called Teaching Our Toddlers Spiritually (TOTS).
A Memorial Garden with walking paths and benches for meditation and reflection is located between two lakes on the south side of the property.
Christ Church Vero Beach is a member of the Anglican Church in North America (ACNA) which unites more than 112,000 Anglicans in the United States, Canada and Mexico in a shared vision to reach North America with the transforming love of Jesus Christ. Christ Church's clergy includes The Rt. Rev. John Miller, Rector; The Rev. Nathan Bistis, Assoc. Rector; and The Rev. Richard Demsick, Missionary Pastor. Debra Gordon is the Director of Children and Family Ministries.
Source :
Christ Church Vero Beach