Family Promise of Monmouth County Celebrated "The Promise of Spring"
Evening Honored Hope Awardee Kim Guadagno, Lieutenant Governor of New Jersey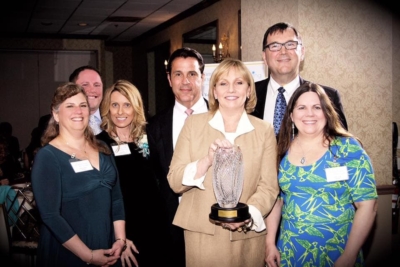 Press Release (ePRNews.com) - FAIR HAVEN, N.J. - May 08, 2017 - Family Promise of Monmouth County celebrated their annual fundraising dinner, The Promise of Spring, on Thursday April 20th at Jumping Brook Country Club in Neptune, New Jersey with great success. This year, the organization proudly presented the 2017 Hope Award to Lieutenant Governor Kim Guadagno who has shown outstanding leadership in New Jersey. Her dedication resonates on so many levels as she serves as a positive role model not just in the state of New Jersey, but throughout the country. Her long-standing commitment to supporting families in need aligns with Family Promise's mission. As a military mom, former prosecutor and the Garden State's first Lieutenant Governor, Kim has been fighting for a better New Jersey by creating a better, more affordable state for families and businesses, and has been bringing relief and volunteer coordinated efforts together to assist Monmouth County families during times of disaster as the overseer of the Governor's Office of Volunteerism and Community Service. Last year, Family Promise awarded Dorothea Bongiovi the inaugural Hope Award for her tireless commitment to providing healthy meals to families in need through JBJ Soul Kitchen in Red Bank, New Jersey. This year, The Promise of Spring event raised approximately $43,000.00.
Photo ID left to right: Board Members Wendy Carofano and Frank Maag, Executive Director Tracy Boyer, Board Member Mike Meriton, Lieutenant Governor Kim Guadagno, Board Member Pete Stahl and Board President Elaine Young.
The community came together to support Family Promise of Monmouth County in full force and wishes to thank this year's supporters: Gold Sponsor: Stillwell-Hansen, Inc., Silver Sponsor: Brophy Family Charitable Gift Fund, Bronze Sponsor: Skody Scot & Company, Bronze Sponsor: Wawa Foundation, Community Volunteers, Andy McDonough and The Groove Project, Brookdale Community College, Colossus Media Group, iParty Pix, Iris Acker, Ltd., Jumping Brook Country Club, Tim and Beth McLoone, Monmouth Stereo, Nelson Press, Sea Blossoms Floral Designs, Signs by Tomorrow, Carol Stillwell, Studio 325 Design and Waterford Crystal. Family Promise also wishes to thank all of their Host Congregations: Christ Church Episcopal, Middletown; First Baptist of Long Branch; The First Presbyterian of Freehold; St. George's By the River Episcopal Church; Church of Saint Anselm; Middletown United Methodist Church; St. John's Methodist Church; The Presbyterian Church on the Hill; Monmouth Church of Christ; Church of the Precious Blood; First Baptist of Manasquan; Lincroft Presbyterian and Trinity Church, Asbury Park.
Exciting news was also announced at the event. The Fort Monmouth Economic Revitalization Authority (FMERA) has granted Building 501 on the old Fort Monmouth property to Family Promise of Monmouth County. Valued at approximately $500,000, this 2,800 square foot facility will serve as their new Day Center providing a long term solution as FMERA has granted a 99 year land/building lease. The cost to maintain this building is lower than Family Promise's current rental costs in Aberdeen. The overall target for their Building 501 Fund Raising Campaign is $125,000. The projected move-in date is targeted for Summer 2017. Longtime friends of Family Promise, the Brophy Family Charitable Fund, has again pledged their support, this time to kick-off crowdfunding initiatives. Donations can be made here: https://www.crowdrise.com/family-promise-of-monmouth-coun…
"Over the past 16 years, we are proud to have helped hundreds of families overcome homelessness. Partnering with our congregations and like-minded organizations, we have helped families move from hopelessness and homelessness to hope and homes they can call their own," says Family Promise Board of Trustee President Elaine Young. "Unfortunately, as affordable housing continues to be out of reach for many hardworking families, we turn away families due to lack of space in our current day center. This summer we are eager to move to the grounds of the former Fort Monmouth complex that will provide more services to help families regain their independence; we know that there is hope for a better future for Monmouth County families. We are the only emergency shelter for families in Monmouth County, so we provide a much needed service to our families. Our ultimate goal, however, is to make our services unnecessary because we have, along with our community partners, eradicated homelessness in Monmouth County."
About Family Promise of Monmouth County: Family Promise of Monmouth County (www.familypromisemc.org) provides food, shelter and services to homeless families in Monmouth County in cooperation with a network of interfaith congregations, while advocating innovative solutions to chronic homelessness. familypromisemc.org
Source :
Belfer Communications

Business Info :
belfer communications
Fair Haven, New Jersey - 07704 United States
Phone: 732.239.1559
Website:
http://www.belfercom.com