CIMdata Publishes AEC Market Overview Report
New Analysis of the Architecture, Engineering, and Construction (AEC) Market.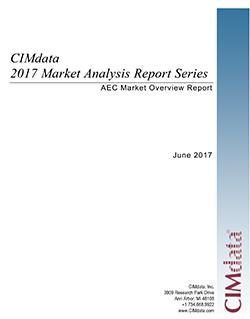 Press Release (ePRNews.com) - ANN ARBOR, Mich. - Jun 15, 2017 - CIMdata, Inc., the leading global PLM strategic management consulting and research firm, announces the release of the 2017 AEC Market Overview Report. This is the second year for this report from CIMdata, providing details for the Architecture, Engineering, and Construction (AEC) market as a complement to the CIMdata PLM Market Analysis Report Series. The 2017 AEC Market Overview Report includes discussions of trends in the market and how AEC solution providers are responding. The report documents CIMdata's estimates for the global AEC market for the calendar year 2016, including 2016 revenue results and forecast revenues for 2017 through 2021.
The market growth for AEC solutions, as measured in U.S. dollars, grew by 2.2% from 2015 to 2016, slightly slower than the 2.5% growth forecast in last year's report. This modest growth masks larger underlying changes among individual solution providers—certain providers showed very strong organic growth while others posted weaker revenues, driven either by business model changes or exposure to industries such as oil & gas.
In addition to market statistics and forecasts, the report provides insights and analysis on key trends in the market for AEC solutions, including:
• Growth in cloud services offerings and adoption
• Innovations in the area of reality capture
• Trends in fabrication and assembly, including additive manufacturing
• The Internet of Things (IoT) and Predictive Analytics
• Virtual Reality (VR) and Augmented Reality (AR)
The report also includes insight into changes in business models by providers, progress with standards and interoperability for AEC, and trends in the adoption of Building Information Modeling (BIM).
"AEC market trends we observed in 2015 accelerated in 2016," states Mr. Ed Martin, CIMdata Practice Director for AEC and Manufacturing Convergence. "There is a clear drive by major providers to establish their solutions as platforms. This is supported by the continued expansion of cloud-based solutions as well as new partnerships and active programs by certain providers to encourage third-party development. Although overall market growth was subdued for a second straight year, some companies had very strong growth, and the forecast is for a return to overall market growth. There are also clear sub-segment trends, for example, stronger growth in construction solutions as companies begin to evolve from BIM adoption to a focus on BIM productivity."
The report includes data detailing AEC historical revenues and forecasts, revenues by sub-segment, revenues by geography, and a split of software and services revenues. The report also includes market size estimates based on solution provider revenues for AEC software products and related services, market shares of AEC providers by various measurements, discussions of key technology trends and related solution providers, and other information related to AEC software providers. Leading AEC solution providers profiled include Aconex, Aspen Technology, Autodesk, AVEVA, Bentley Systems, Dassault Systèmes, Glodon Software, Hexagon AB, Nemetschek Group, Oracle, Procore Technologies, RIB Software AG, SAP, Siemens PLM Software, Trimble Navigation, and Viewpoint Construction Software. The report includes charts that highlight these market leaders, focusing on total revenues, with splits by software and services, sub-segment, and geography. Several smaller providers with notable solutions and innovations are also profiled briefly.
The CIMdata PLM Market Analysis Report Series is packaged as five modules covering the overall PLM market, and can be purchased as a set or purchased separately. Three segments are profiled in additional reports—the CAM Market Analysis Report, Simulation & Analysis Market Analysis Report, and the AEC Market Overview Report. CIMdata PLM Community members receive discounts on the reports. Further details and pricing information about the report and Community Memberships are available at www.cimdata.com.
About CIMdata
CIMdata, a leading independent worldwide firm, provides strategic management consulting to maximize an enterprise's ability to design and deliver innovative products and services through the application of Product Lifecycle Management (PLM) solutions. Since its founding in 1983, CIMdata has delivered world-class knowledge, expertise, and best-practice methods on PLM solutions. These solutions incorporate both business processes and a wide-ranging set of PLM-enabling technologies.
CIMdata works with both industrial organizations and providers of technologies and services seeking competitive advantage in the global economy. In addition to consulting, CIMdata conducts research, provides PLM-focused subscription services, and produces several commercial publications. The company also provides industry education through PLM certificate programs, seminars, and conferences worldwide. CIMdata serves clients around the world from offices in North America, Europe, and Asia Pacific. To learn more about CIMdata's services, visit our website at www.CIMdata.com, follow us on Twitter: http://twitter.com/CIMdataPLMNews, or contact CIMdata at: 3909 Research Park Drive, Ann Arbor, MI 48108, USA, Tel: +1 734.668.9922. Fax: +1 734.668.1957; or at Oogststraat 20, 6004 CV Weert, The Netherlands, Tel: +31 (0) 495.533.666.
Source :
CIMdata