Cimdata Validates Automotive Program Management Category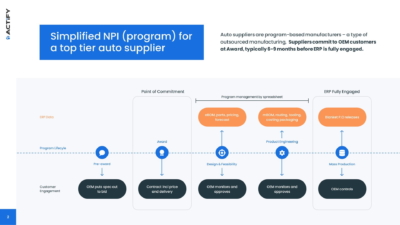 Press Release (ePRNews.com) - Feb 11, 2021 - Actify, the leading provider of collaboration, integration, and data visualization solutions to the automotive industry, today announced that CIMdata has published commentary explaining the need for purpose-built solutions for automotive program management, validating the establishment of a new category – Automotive Program Management (APM).
The full report can be read here: https://www.actify.com/resources/article/article-actify-delivers-auto-program-management-cimdata
The automotive supplier community is under ever-increasing pressure to speed their responses to RFQs, produce more advanced parts, and reduce cost, all while delivering near-perfect quality. Despite investment in line-of-business applications like CAD, ERP and PLM, suppliers lack enterprise-class software to satisfy the cross-functional process management, collaboration, and data integration needs of their program managers.
According to the report, "CIMdata believes that replacing current implementations with something like Actify's APM suite presents a compelling opportunity. Adopting an enterprise-class software solution that is purpose-built for program management can unlock improved productivity, reduced risk, and drive performance gains including better win rates, improved customer satisfaction, and higher program profitability."
The Actify APM Suite, to be released in phases starting Q1 2021, will provide applications addressing Program Development, Program Management and Program Analysis, as well as Actify Centro at its foundation. Actify APM Suite will be available first in North America, with global roll-out to follow. More details will be available at time of release.
"Working with our more than 1,500 customers, most of which are in the automotive supply chain, we realized they need a purpose-built suite of applications covering the entire program lifecycle from pre-award, to launch, and throughout the lifetime of their programs," said Dave Opsahl, CEO of Actify. "We are excited about this validation from CIMdata, as it reinforces the need for a category of solutions that is long overdue."
About Actify
For 15+ years, Actify has been helping manufacturers to visualize and interact with design and engineering information. Having led the industry in creating easy-to-use tools that are affordable and improve quality and productivity, Actify is applying everything we've learned to meet the unique needs of automotive program teams. Actify serves a global base of more than 1,500 companies using Centro for collaboration and integration and SpinFire for CAD visualization. Actify is headquartered in Detroit, Michigan with sales and support in 45 countries through its offices in the United States, United Kingdom, Germany, and a global network of partners. For more information, please visit www.actify.com and www.spinfire.com.
For media inquiries, please contact:
Angela Simoes
asimoes@actify.com
415-302-2934
Source :
Actify, Inc.