ClashFarmer Offers a New Clash of Clans Bot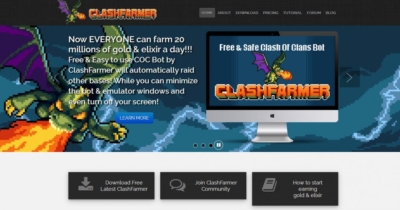 Press Release (ePRNews.com) - LOS ANGELES - Feb 23, 2017 - Are you tired of having to play Clash of Clans constantly in order to get the upgrades that you want? In some cases, you may enjoy the daily grind that comes with the game. But sometimes you need to take a break, and you may want to continue farming for resources and ensuring that your base is being properly protected. And that is where the new Clash of Clans bot from ClashFarmer comes into the picture. Their bot provides CoC enthusiasts with all they need to keep their game running at 100 percent even if they are not playing.
In terms of features, the ClashFarmer CoC auto bot is one of the best around. Not only will it allow a player to remain online 24/7, but it also ensures that certain actions are being performed on a continuous basis. There is no need for a player to manually collect resources or train their troops when the bot can get the job done for them. The new CoC auto bot is also capable of raiding for loot on a regular basis. As long as the player is able to get it installed and running properly, there should be no issues with the implementation of the bot. It runs on Windows computers through Android emulators, such as BlueStacks or MEmu.
While the casual player may not see the need to have a bot for the game, regular and hardcore players will be well aware of the benefits. Clash of Clans is one of the most interesting and engaging games on mobile platforms, but some of the in-game tasks can get fairly repetitive. And now with the ClashFarmer bot, it is possible to take all of those tasks and assign them to the bot. It allows players to build up and upgrade their Clash base without having to spend hours grinding through repetitive tasks to earn gold, elixir and dark elixir.
With the brand new Clash of Clans bot (http://www.clashfarmer.com/) being available through the ClashFarmer website, CoC players are able to take advantage of all the rich features that it offers. By using the CoC auto bot, a player is able to amass resources, train troops, auto upgrade walls, remotely control the bot via PushBullet, utilize advanced attack and search settings to look for loot and complete other tasks in the game without even having to play. It really does allow a player to focus their time and energy on clan wars and strategies, while the mundane activities are left to the bot.
Source :
Clashfarmer Bot