Comedian FELICIA MADISON Set To Open the Next LIVE GingerNewYork TV Show in NYC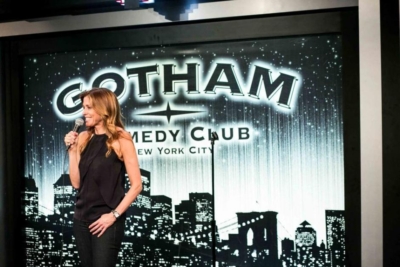 Press Release (ePRNews.com) - NEW YORK - Feb 25, 2017 - Felicia Madison: had a childhood dream of becoming a Broadway dancer. Her parents had other plans…which is why she was pre-med in college! Felicia Madison graduated from the University of Pennsylvania with a degree in biological basis of behavior and a minor in marketing. Happily married and Manhattan mother of three, Felicia pulls on her experiences as a stay-at-home mom in an affluent part of the world to poke fun at marriage, parenthood and life in general.
Felicia Madison performs throughout New York City. In addition to live appearances, Ms. Madison is blogging, podcasting and writing a screenplay. She's also producing a daytime comedy program for fellow New York City moms!
"I have been a happily married mother of 3 (most of the time) and have struggled with what to do when my kids were all grown up and gone. Not knowing what I wanted to do when I grow up, I tried many different professions, school and entrepreneurial ideas." "Finally after thinking about it for a while, I got advice from a fellow comedian and friend on how to start my career in stand up. I took a class at the Manhattan Comedy School and I was hooked."
Frustrated with the male dominated field and evening gigs, I came up with the concept for a daytime lunch show. It enables me to perform during the day, when I am completely free, and in front of "my" audience. The lunches have been a huge success for both the moms and the comedians. I hope to increase awareness so that I can produce them on a bi-monthly or weekly basis.
Ultimately, Felicia Madison would like to develop a talk show or show based on her experiences and the lunches.
https://www.youtube.com/channel/UCrJ4IWFS4yDunu4ddbi5ZUw
Media Contact: Laurie Sheppard http://www.boomprny.com/
Upcoming Performances for Felicia Madison:
February Laughing Lunch: Laughercise
Petaluma
1356 1st Avenue
New York, New York 10021
Monday, February 27, 2017, 12:00pm
Selected Media:
http://www.ourtownny.com/local-news/20161227/ladies-who-l…
For More Information:
Official Website: http://feliciamadison.com/
Facebook: https://www.facebook.com/felicia.m.levy
Twitter: https://twitter.com/FeliciaLMadison
GingerNewYork found on Manhattan Neighborhood Network (MNN) since launching in November, 2010, has been showcasing the "Kool Kats…Gotham Nights" greats of music and culture of New York and beyond. What defines GingerNewYork is its host Ginger Broderick's unique insight, connection to and pulse on the music and culture of Gotham making GingerNewYork one of the most sought after programs to appear on.
GingerNewYork can be seen in Manhattan on Time Warner Cable Channel 34 and HD Channel 1995, Fios Channel 33, and RCN Channel 82, every Friday afternoon at 2pm EST. It can also be seen live streaming on the Manhattan Neighborhood Network's website, www.mnn.org, Channels 1 and 5.
Show Contact Information:
GingerNewYork 'Kool Kats…Gotham Nights'
Email: gingernewyorktv@gmail.com
Facebook: https://www.facebook.com/pages/GingerNewYork-TV-Show/143257839058652
Photo of Ms. Broderick Courtesy of Rasheem Morris
Source :
GingerNewYork TV Show

Business Info :
GingerNewYork TV Show
PO Box 1555
New York City, New York - 10156 United States
Phone: 212-685-4100