Commerce Street Capital's 15th Annual Bank Conference to Share Strategies, Insights and Best Practices Followed by Top Community and Regional Bank Executives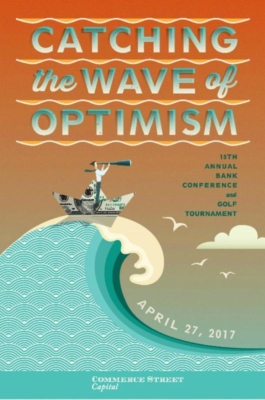 Press Release (ePRNews.com) - Dallas, TX - Apr 04, 2017 - On Thursday, April 27, Commerce Street Capital, LLC ("CSC") (Member FINRA/SIPC) will host banking executives from across the country at its 15th Annual Bank Conference. The location is the Four Seasons Resort and Club Dallas at Las Colinas. Attendees will have the opportunity to hear about banking growth strategies; best practices for addressing cybersecurity risk; and insights into economic trends from industry experts to name a few topics.
"For 14 years, our bank conference has offered an open forum where the best minds in financial services come together to discuss strategies and offer solutions to the current challenges facing community, independent and regional banks," said Dory Wiley, President/CEO of CSC.  During his segment, Mr. Wiley will present the top banking themes of 2017.
Exploiting growth opportunities in community banking will be discussed during the bankers' panel Mr. Wiley will moderate in the afternoon. The panel includes Scott Wade, Chairman and CEO of AimBank in Littlefield, Texas; Paul Murphy, President and CEO of Cadence Bank in Houston and Roy Salley, Chairman, CEO and President of Oakwood Bancshares, Inc. in Dallas.
The conference will open with a presentation entitled "Banking, Politics & You…What to Expect"  by Dr. Allan Saxe, well-known Associate Professor of Political Science at University of Texas Arlington, author and philanthropist, speaking on the current political climate and its impact on banking. Dr. Saxe is also a frequent, popular contributor to various radio stations including Radio America, USA Radio, KRLD and Fox News Radio.

Brian Johnson, Managing Director and head of the Financial Institutions Group at CSC will host a panel discussion on protecting organizations from the threat of cyber-attacks. Participants include: Dan Armstrong, Chief Digital Officer at BankMobile;  Brad Smith, Managing Director of Technology Solutions at Cornerstone Advisors; and Ben Trowbridge, Cyber Security Managed Services Leader at Ernst & Young.  Mr. Johnson will also present a session on historical and current data concerning bank strategies related to "The M & A Conundrum".
Corbett Guest, CEO of Imaginuity, a Dallas-based full-service digital marketing agency and consultancy, will share digital brand strategies that allow organizations to improve their online presence, while maintaining and strengthening their existing long-term relationships.
Brendan Achariyakosol, Managing Director in CSC's corporate investment banking and valuations practice will elaborate on complementary capital solutions to bank loans along with fellow panelists Preston Massey, Co-Founder and Managing Partner with Congruent Investment Partners  and Jason Baker, Senior Vice President – Middle Market for Comerica Bank. Annika Cail, CSC Vice President, will moderate the panel.
Lunchtime speaker, Vance Ginn, Ph.D., Economist for the Center for Fiscal Policy at the Texas Public Policy Foundation in Austin, will provide insights into how we can successfully weather economic uncertainty.
Ronald L. Rubin will give an insider's view of the Consumer Financial Protection Bureau (CFPB).  Dennis McCuistion, author, TV host and Executive Director at the Institute for Excellence in Corporate Governance at the University of Texas at Dallas will moderate this discussion.
Roger Beverage, President and CEO of the Oklahoma Bankers Association will close the conference with a discussion on his experiences in Washington, DC speaking on behalf of bankers across the nation. It is entitled, Tempered Optimism – The Long Road Ahead.
2017 Commerce Street Bank Conference – Date: April 27, 2017; Time: 7:30 a.m. – 4:00 p.m. CDT;
Conference Registration: $285 through April 7, 2017 and $315 after April 7, 2017
Registration and Golf: $525 through April 7, 2017 and $555 after April 7, 2017
Location: Four Seasons Resort & Club Dallas at Las Colinas; Address: 4150 N. MacArthur Blvd., Irving, TX 75038
To register for the 2017 Commerce Street Bank Conference visit:  www.commercestreetcapital.com
Source :
Commerce Street Capital