Composer Gabriel Dib Talks About His Creative Process After Winning The Portuguese-Brazilian Award, An International Award
Award Winning composer arrived in Los Angeles in 2013 and since then has written music for 15 TV shows including Criminal Minds and Criminal Minds Beyond Borders (CBS), Castle (ABC), Mad Dogs (Amazon), Halt and Catch Fire (AMC), Señor de los Cielos (Telemundo), as well as studio and indie feature films.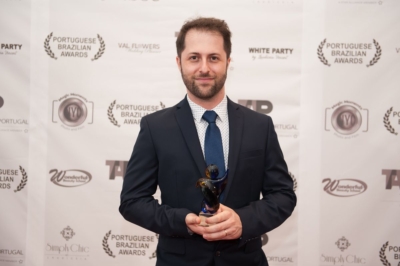 Press Release (ePRNews.com) - LOS ANGELES - Jul 12, 2017 - Gabriel Dib, owner and operator of the Los Angeles based music production company Original Music by Gabriel Dib, was awarded a Portuguese-Brazilian Award, an international award for his outstanding work on film and TV music composition.
Held June 27 at the Lincoln Center in New York, the 4th Annual Portuguese-Brazilian Award honors the most accomplished entrepreneurs of the past year of Brazilian and Portuguese heritage. Dib's recent film and TV work includes the score for the American documentary "Our Blood is Wine" directed by Emily Railsback and the TV show "171 – Negócios de Família" for Universal Channel.
Dib's past work includes writing music for TV shows "Castle" for ABC, "Criminal Minds" and "Criminal Minds: Beyond Borders" both for CBS and Señor de los Cielos, the highest rating show ever on Telemundo. Work for feature films includes Disney's "McFarland" and the urban phenomenon "Drumline: A New Beat". Other work includes writing music for the American version of the British TV show "Mad Dogs" on Amazon, "East Los High" on Hulu, and "Halt and Catch Fire" on AMC.
The composer says "I don't try to reinvent the wheel, but I like to bring in distinct elements. Ideas to enrich the score making it dense, so that each time you listen to it you may pick up a new detail, but I also like writing music that is easy to digest so the audience can remember it later. Density and simplicity," Dib said. "If you think of Queen the rock band, their music is like that, they have written songs full of rich details and yet carrying a very direct message. That is what I try to achieve with my scores."
He Continues "When composing for films or TV series, I always start reacting to the stimuli of the storyline. That starts with a script, but is consolidated when I watch the picture so I have a more precise object to connect to when choosing the musical elements I'm going to use," Dib said. "While putting the music together, it also depends on the pace of the of the film edit and the possible genre directions. If it is an action movie, you may find need for suspense, tension and chasing pieces. But if it is a drama, you may have more slow paced music pieces, more introspective and more melody driven. One thing is common in all cases: I do a lot of preparation and research beforehand."
In 2016 Dib received the 2016 Best of Encino Award in the Music Composer category by the Encino Award Program. Each year, the Encino Award Program identifies companies that have achieved exceptional marketing success in their local community and business category.
Based in Los Angeles, California, Dib came to the US in 2011 to earn a Masters in Fine Arts in film scoring from Columbia College Chicago. Dib previously lived in São Paulo, Brazil, where he was born.
Source :
Original Music by Gabriel Dib